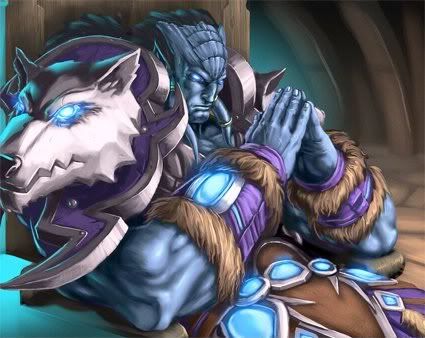 Callion Itrius
Leader of the Fan'thol clan
Personality
Callion is kind to those who have earned his trust. But he doesn't just trust anyone. However, he isn't paranoid either. Calm is a word most people would use to describe Callion, trustworthy is another. Callion is an honest person and prefers not saying anything at all to lying. He is a good friend, but a better leader. Callion is considered a great comrade by most of his clan and they'd all lay their life in his hands. Overall, Callion is a nice person, be it somewhat silent at times.
Description
Callion is a draenei, making his posture quite alike to an orc's (tall, broad-shouldered and heavily muscled) though the details differ from orcs. Callion has got a blue skin and his forehead is also very distinguishable. Draenei's are humanoid creatures and can communicate with anyone as long as they share the same language. There are multiple scars on his body, though none of them is worth noting. He has been told that he looks a lot like his father. He is a force to be reckoned with.
Fighting style
Callion has been taught to fight with weapons and magic at the same time. Callion is used to leading formations into battle and using everyone's talents to their full potential, but is also very experienced at solo-missions. Callion will target the most powerful enemy and ignore the smaller threats until the big guy is down. When the smaller enemies bug him too much, he'll reserve a portion of his mana to summon an elemental (if he has summoned all elementals, Callion can't cast any other spells apart from shapeshifting), the elemental will protect Callion from them so that Callion can strike at the strongest target. The amount of spells he uses depends on the enemy he faces. Sometimes he can be found on higher ground, casting spell after spell. This happens mostly when the battlefield is very large and he has to oversee all of it. In smaller battles, Callion can be found on either the main-defence party or the main-attack party. Only on rare occasions it happens that Callion isn't in the main-force. Callion carries a shield and a one-handed mace with him all the time.
Magic
Callion is a magic user, so apart from his strength he's a noteworthy ally and enemy alike on the battlefield. Callion mostly uses elemental attacks, seeing that they are his most powerful, but can also cast some arcane spells. Magic isn't uncommon among draenei, but even so, Callion's magical abilities are something he leaves other draenei flabbergasted with. Apart from casting spells, he can also summon a few elementals into this dimension.
Callion's different lores:
Earth- Blunt damage and stun.
Fire- Heat damage and after-burn.
Ice- Cold damage and slow.
Water- Splash damage and fire-extinguisher.
Storm- Shock damage and after-shocks.
Wind- Gust damage and dizziness.
Arcane- Extra damage to magical beings.
Spells
Callion can perform different spells:
Bolt- Long ranged bolt-like attack, damage and effects depend on what sort of matter is used and on how long the caster takes to create the bolt.
Shock- Short ranged shock-like attack, damage and effects depend on what sort of matter is used, it almost takes no time to cast.
Channel- Long to short ranged attack, damage and effects depend on what sort of matter is used, it will last as long as the caster keeps channeling.
Area of Effect- Attack on targeted area, results of the spell depends on what sort of matter is used, as well as the casting-time.
Heal- Heals an ally or himself, quickening the normal healing-process of the being for a short amount of time, as well as dulling the pain.
Summons
Callion can summon different elementals:
Earth Elemental
Fire Elemental
Ice Elemental
Water Elemental
Storm Elemental
Wind Elemental
Elementals are very strong beings, immune to their own element and vulnerable to another (as example: fire is vulnerable to water). Second to using that element, the easiest way to destroy an elemental is by destroying their totem (which can be found floating around Callion).
Shapeshifting
Callion can shapeshift into a spirit wolf. In this shape, Callion doesn't get tired of traveling, can phase out of existence for a moment (to move through walls, trees, etc). He can do damage by biting and clawing, but it's very minor. Enough to kill a rabbit, but not enough to kill a soldier. If he phases on time, he can dodge an attack, but he can't dodge all attacks, even if he's on time. Damage caused to Callion while in this form doesn't show until he transforms back.
*None of the pictures used in this profile are mine, if the owner wants me to take it off, I will say so after they tell me so.