"The best friggin' Bounty Hunter to carry a cell phone, baby!"
---
Age:
15
Hair Color:
Jet Black
Sex:
Male
Eye Color:
Steel Blue
---
He holds the appearance of a superhero in ordinary clothing if he kept the color scheme. He wears a high-collared blue track coat accented with a red line going from the edge of the collar to the seam of the sleeves. He wears no shirt underneath it, revealing his bare chest and giving him an exposed look. He wears non-matching beige shorts held around his waist by a white belt with a plain buckle and bulky-looking shoes, though he's able to walk, run, climb, and other foot-based activities with no issues as if they were custom made for him. He is accented by a pair of red goggles with yellow lenses on his head, a red sash tied to his left arm, and a necklace accented by a yellow stone-looking centerpiece.
---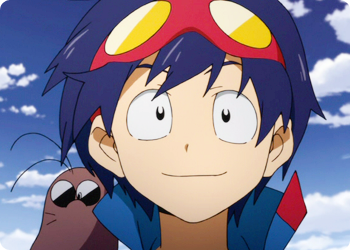 As a technological genius, a hormone developing teen, and a passionate fellow for music, Cam's got about three billion things running through his head at once, though keeping track of them all seems like little issue for the kid. Bouncing with energy and a light-hearted attitude despite even the worst of situations, he is often considered by many to be unhinged, unpredictable, and just a smidge insane. He's not exactly a hard face to read as his hyperactive brain and body tend to emote quite a bit. Even the tune he carries often reflects his mood at the time and the volume is often turned up to full blast. That being said, his voice is often seen as optimistic and full of levity for those who converse with him, even to enemies of his. And MAN is he a defuser!
---
Cell Phone: His most valuable and powerful tool in his arsenal. Using this device, he can bring out a number of offensive, defensive, and tactical accessories to aid him in combat. These accessories are accessible through applications designed and programmed by Cam and can be summoned or despawned by opening or closing the appropriate applications. It has the capabilities to run multiple applications and even call or text other people...but with a hitch. Like any other phone, it has a battery life. The more applications he has running, the more power he draws from his phone and the sooner his phone will die. The phone itself has a standard holder for his modified batteries as well as reinforced casing on his phone, a screen protector, and an absurdly boosted speaker so that he can blare music loud enough for everyone in a mile vicinity to hear. As for applications, he moves them on and off his phone constantly, so the current set he carries with him is almost never the same. How many applications he can run is based off memory on his phone. While some applications take very little memory and very little battery life to use, others take tons of both. For the job described, he usually equips what he deems necessary to accomplish it in the best way possible. Below is listed a few of the apps he is most likely to have on his phone:
Virtua-Skin- A standard defensive application. Based on facial recognition software, it covers the user in a temporary "skin" so long as it is active. This skin can change colors, apply the background around the user (to make them invisible), or even increase the thickness or hardness to extreme levels so as to leave the user impenetrable by physical means, although not every feature can be used at once. It also only affects the skin of the user, not their clothing, accessories, or inner organs. Can function as a background application. Standard in memory usage.

Shield Generator- A multi-functional defensive application. When active, it generates a grid directly in front of the user in which nothing can pass through it's membrane from either direction. The size of the shield is adjustable, but enough force applied to it will crash the application. Larger grids take up more battery life and are more susceptible to crashes from weaker and weaker impacts.

Google Search Engine: Ah, but what phone doesn't have access to this beaut? In Cam's case, he can use Google Search to look up and bring forth any entity or internet creation/documentation to life in front of him, be it a Rocket Launcher or Dick Cheney nudes or Dick Cheney nude or even a fully functional atomic bomb. Takes very little battery life and has small memory usage, but requires an internet connection to access. Disappears when the application closes.

Hotspot: Another standard phone application with nearly zero memory Cam carries. Like any other Hotspot, it burns through his battery life like crazy, but generates a mobile field of internet for him to access for any number of reasons. Like to pull up anything off of Google...

Laser Sword Simulator: An application that's fun to use with or without the Amplifier. Conjures a plasma-based laser sword (similar in make-up to that of a lightsaber) from the top of the phone. Makes whooshing noises when swung. Cuts through mostly anything. Takes up a decent amount of battery life, thought minuscule in memory.

Atomic Teleporter: A very important application for Cam's line of work, this is his only form of wide-scale transportation. The app is powerful enough to teleport him to any planet, into any city, near any locale he wishes to go based off the geospatial mapping technology developed within the same application (Don't ask where he got the files from). It uses up 96% of the battery's life, however, so it is deemed nearly unusable in a combat scenario as a quick exit. It surprisingly has very low memory, due to the simplicity of the function.

CPP: Shortened for Cam's Personalized Playlist, this application contains a massive...MASSIVE library of songs for Cam to pick from. Comes with a "Randomize" function and a "Search" function. Average in battery life consumption, but quite high in memory consumption. Despite this, it's the only application that has yet to leave his phone.

*NOTE: These are only standard applications he is most likely to carry with him. All are subject to change as he has many more applications with varying effects and functions that he adds or removes from his phone at his own will. Every mission he's on will detail the list of applications he has downloaded on his phone at that given time, where his battery life is, and what his memory usage is at.
Tracking Goggles: A versatile tool to fit a wide variety of needs from measuring distances to calculating angles and arcs right before his very eyes. Improves his aim and accuracy considerably. Cam has also built in a memory gauge and a battery life monitor from within.

The Amplifier: His dependence and his most reliable asset...so much so that he wears it around his neck. The yellow triangle-shaped device allows for any computer program to be coded into the real world by virtue of copying the software the program is designed upon and pasting it in the real world via Technomancy. Anything change done to the real world by essence of a Technomancy-based creation is permanent. Without it, his phone is simply a phone. Glows when activated.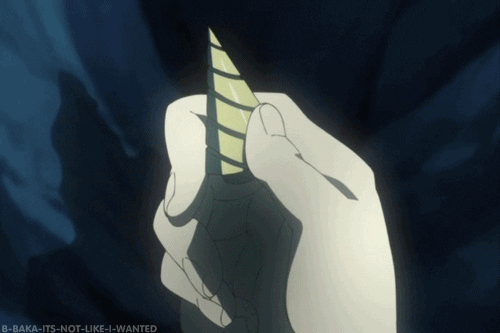 Other Stuff: Cam carries five extra batteries and a portable charger on his person at all times (Why it's so little is because he prefers to pack light).
---
Long story short, Cam's past consisted of a strict upbringing in a scientific setting. His parents were killed in a science experiment gone wrong (in very boring fashion, I may add) that pushed his interests towards continuing their family legacy in the field of science, which he was maturally adhered for anyway. One day, we went walking through a cave and saw a curious gem left on the ground, which turned out to be the Amplifier. Using it's power,
he allows it to further his inventions in an entirely different plane of existence and excel in his abilities as an inventor. However, since he lives alone, he must rake in the dough somehow to keep himself alive and well, so he'd taken to Bounty Hunting. And so that's what he does now. Bring in bounties while inventing new things and applying new concepts, all the while deciding his next big move in life.
More will be filled in based on his experiences throughout the Multiverse.
---