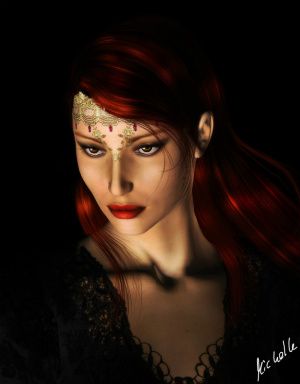 This image is not mine, it belongs to Miashai on DeviantArt, will remove if asked
Age: 21
Appearance:
She is a beauty to be sure, with long auburn hair and pale violet eyes. However because of a jealous lover a scar graces her nose. It has faded to a red line that has long reminded her of the risks of her profession.
Personality:
Charisma is charming, witty and doesn't pull any stops in getting what she wants. However there is a degree of risks she doesn't take.
History:
A courtesan from the city of Venice, praised for her beauty and wit. She became a courtesan mostly to seek knowledge as it was the only way she could become educated. True a courtesan is known to entertain in the bedroom; however they are also known to be great conversationalists. Trained to be witty, and somewhat risqué, they were an escape even for married men from their wives. Yes this made the wives angry, and hatred from them was a risk every courtesan took. Yet this was the normal way of life for the time period. A wife's only duty was to her husband, to bear him children and run the household, however education was something that was impossible for them to obtain. A courtesan could learn to read and write, as well as speak to men on more of an equal base.
During the Spanish Inquisition, many courtesan were excused of witchcraft, many died either by hanging or beheading. Others were severely punished, often times publicly whipped and left for examples of the consequences of sin. To escape such a fate was nearly impossible, especially for the more well-known, however a few did...