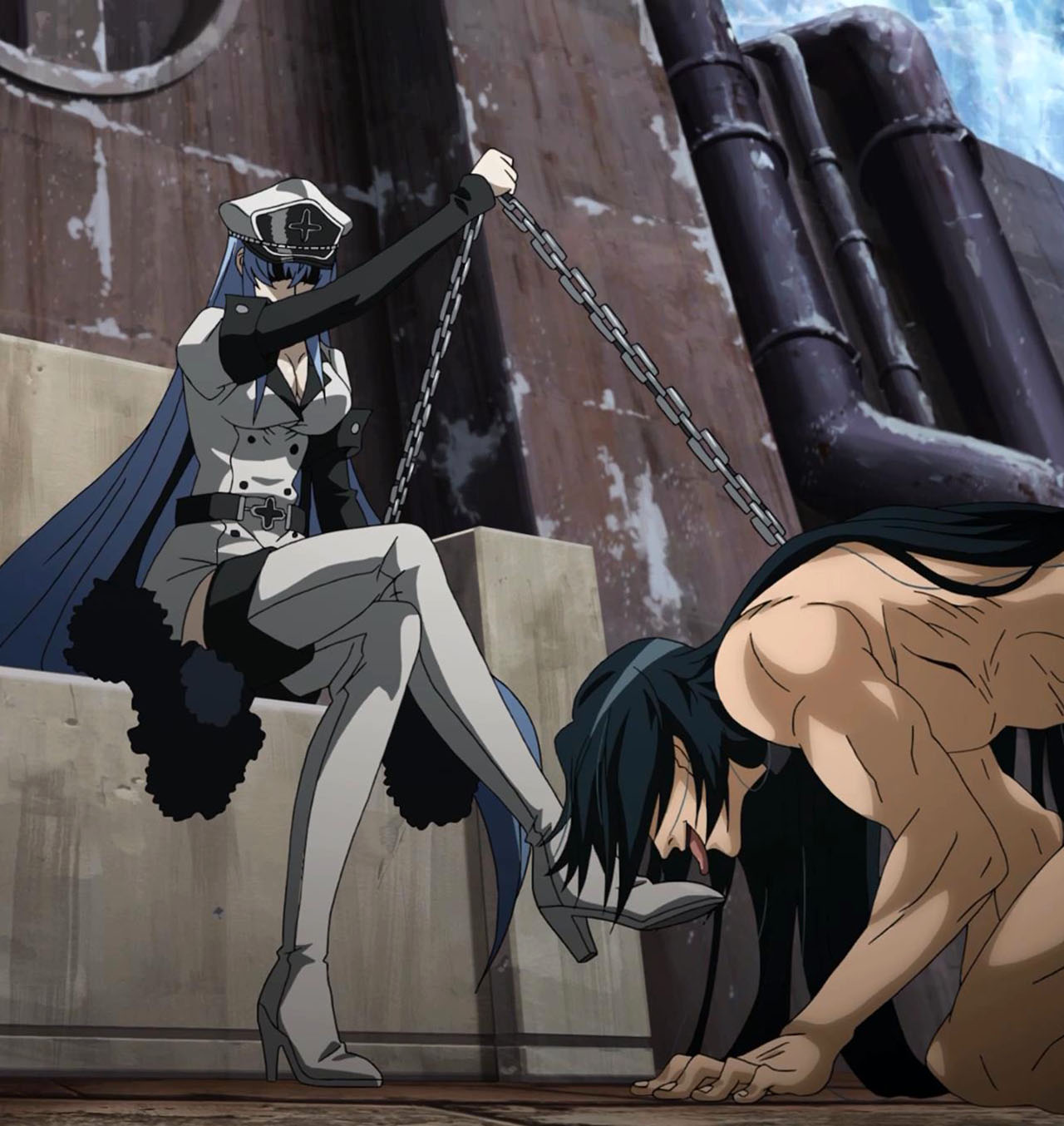 Physical Description: Blue eyes. Long blue hair. Generally dressed in a white attire.
Personality: Generally a sadist. She enjoys torture, war, death, ect. She is calm under most circumstances. A great tactician as well as intelligent. However, she does take care of her subordinates and treats them exceptionally well.
Equipment and abilities: She possesses a powerful Teigu(Imperial Arm) called Demon's Extract that allows her to manipulate ice and create ice from nothing. She uses it to create icicles, freeze people to death and more. She has been able to freeze an entire lake within moments with her ability. Her trump card allows her to freeze time and time but can only be used once a day and takes it's toll. Esdeath usually carries a long rapier that she wields with her into combat. She has shown herself to be quite adept with this weapon even without having to resort to her Teigu. She is shown to be a highly skilled hand-to-hand combatant as well, possessing great physical strength.She also has a strong sixth sense, being able to sense killing intent even at long distances. She was perfectly able to sense that someone was spying on her. Also, her sense of smell is strong. Esdeath has an extensive knowledge of human physiology due to having been a torturer for a long time. Esdeath also has a pet dragon that she flies around on.
Historical Background: Esdeath was born in the Northern Frontier Lands and is the sole remaining survivor of her village, the Partas Clan. She spent most of her childhood in the north with her Tribe and she was very close with her father, the clan chief due to the death of her mother at the hand of an ultra-class Danger Beast. She was a skilled and formidable fighter at even such a young age. Whenever she caught prey for the tribe her father would begin gutting the creature without killing it. Due to this she became comfortable with the idea of inflicting pain on living things. However, her father was worried that this might cause her to lose something that she can't regain, but in order for her to survive this was fine with him. Her father told her that in the North "The strong live and the weak die", a creed she kept close to her heart. One day she returned from an outing to find her Tribe destroyed, with everyone either dead or dying. Her father was still alive but mortally wounded, and she vowed to herself to become strong.