-Appearance-
-Character Information-
Name: Gniris Miraak Indigo
Gender: Male
Race: Falmer-Daedra halfbreed
Age: 417 years old
Appearance age: 27
Height: 6 feet 1 inch
Weight: 238 lbs.
Hair color: Crimson
Hair Length: Mid-back length
Eye color: Sapphire
Skin tone: Tan
Physical condition: Well toned
Health condition: Healthy
Sexuality: Straight
Personality: Composed, calm, collective, intelligent, stern, and quite caring.
Scars: Right shoulder from an arrow, multiple on his back from being whipped, upper left thigh from a knife, and one on his left hand from a nail being driven through it during a construction project.
Tattoos: None
Body Piercings: None
Dis-figuration: None
-Weapons, armor, attire, and accessories-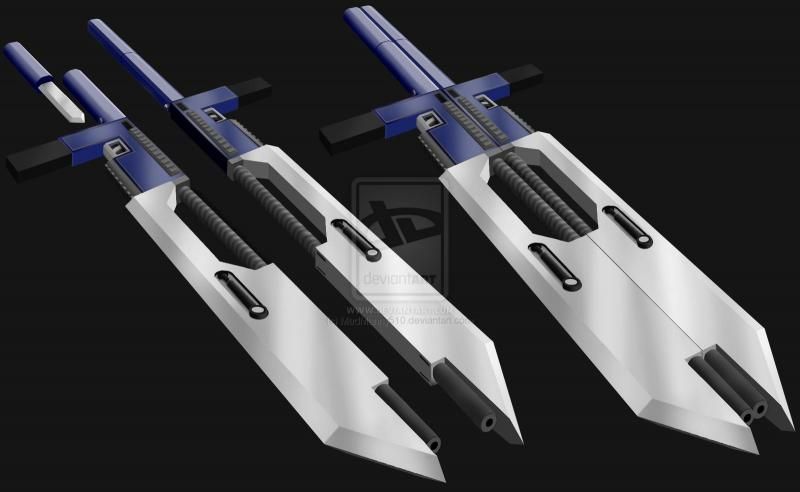 -Split-Buster-
The Split-Buster is a twin great-sword normally carried around both blades combined into one massive weapon but when used in combat are normally separated for most efficient use. The blades are an impressive five feet seven inches long on both weapons and each blade houses a different weapon type. One blade contains a shotgun capable of firing 20 gauge slug rounds the other equipped with a rifle crafted to fire 44. caliber armor piercing rounds. When the blades are combined if either trigger is pulled will fire both rounds at once. The force would be enough to immediately dislocate the average man's shoulder but fortunately Gniris isn't the average man. The blades were forged by Gniris' blood uncle using Vibro-steel and dragon scales to make the weapon rather difficult to break or even damage.
Stiffening throwing knives- These throwing knives were enchanted by a Falmer Sorceress when they strike their target they will inflict paralyzes on them. Making them helpless perfect for capturing targets alive or to even the odds in a normally unfair fight.
Gniris' Travelers attire: This outfit is normally worn by Gniris when traveling and even when relaxing since it's designed for comfort. This outfit consist of a white undershirt, a emerald green over shirt, tan, black, or grey pants, black hiking boots, black and white running shoes, or black combat boots, during winter or cold environments it will include a dark violet and ruby red trench coat, and when traveling when not trying to be notice a brown cloak.
Mephala's tear: Passed down from generation to generation from his Daedric father it was only natural this amulet came to be in his possession. As much as Langrisser hated Gniris wearing it he allowed it since it was the only thing that Gniris had to remind him of his father before Daedra Hunters came and slaughtered his father believing the Daedra had taken Gniris and his mother against their wills.
-Magic and abilities-
Restoration Master
Destruction Master
Alteration Master
Conjuration Master
Falmer Magic Master
Alchemy Master
Azure Master
Immunity to fire/heat
Immunity to ice/cold
Immunity to poison
Immunity to disease
Minor resistance to magic
Major resistance to mind reading/control
Night Eye
Moderate Regeneration