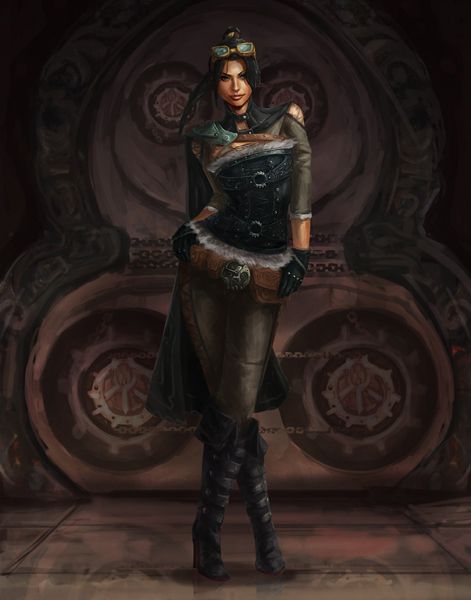 Kireth 'Blizzard' Torship
Aliases/Nicknames:
Blizzard
Age:
21
Gender:
Female
Species:
Human
Skin Tone:
Light Tan
Height:
5'11"
Weight:
140 lbs
Build:
Slim, athletic.
Eyes:
Green
Hair:
Long, black, straight, often put up into a ponytail.
Weapons:
-The
Ice Rod
her mother had given her, which stands to about five and a half feet tall, made of a strong, cold ore.
-A present from her dragonslaying father, the
Azranian Crossbow
, a weapon embedded with Dalacite down it's middle, which Kireth infused with ice magic to make it a deadly ice weapon.
-Something she got herself on her travels,
Frost Beatles
, little critters made of ice and magic that latch onto an enemy and attempts to freeze them to death by spreading ice onto their skin.
Occupation(s):
None
Special Abilities/Skills:
Blizzard

: The spell in which she got her nickname. It does exactly what it sounds like; creates a deadly blizzard in a two hundred foot radius.

Whiteout:

Most useful when using the spell Blizzard, this causes her hair, skin, and clothing to become the same white as snow.

Frost Bite

: Creates a pointy-toothed maw around her jaw which she uses in close quarter combat.

Ice Barrage

: Creates a shield of ice to protect herself or to lift and project at a target.

Ice and Snow manipulation

Exactly as it sounds.

Ice line

: When she pounds the Ice Rod onto a surface, it creates a line of ice that shoots toward an enemy and to freeze their feet/paws/tentacles/whatevertheygot in place.

Icicle Storm

: Using her Crossbow, Kireth can fire a bunch of large, sharp, cold icicles at an enemy all at once.
Activities/Organizations:
None