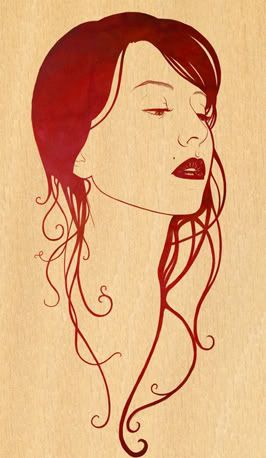 Oh, won't you come over here, dear? Come, come close, I would like to speak to you! Let me hold your hand, let me feel your skin...oh, so soft!


Your skin is so...soft.
[Under Construction]
Age/Date of Birth:
Unknown
Gender:
Female
Race:
Sangsue
Class:
Duchess
The Sangsue are a parasitic race, living off of humans while disguised within their society. Most of the time, Duchess' will not kill their prey. Some will extract the nutrients they need from them and leave them with just enough to survive. Some will do this for the duration of an entire lifetime for one human. Others will simply drain and let die.
Appearance:
Parlene, a pale young woman, is a deadly creature packed into a sickly body. She has a willowy figure, long legs, and a round face. Her hair is of a stunning contrast with her skin, with its vivid, bright red curls running down her back. Her lips are of the same shade. Naturally.
Inside of her body, just below her skin, are small, clear cilia that come out through her pores. They are used to pierce skin so that she may feed from her victim's blood. The cilia transfer the blood to her stomach, however, this process is very slow.
Won't you come and speak to her? All you have to do is come over.
Just hold her hand.
Really, she's harmless.
Promise.
The image is not mine, and belongs to
diegoidef
on deviantART. If asked to be taken down, I shall do just that.