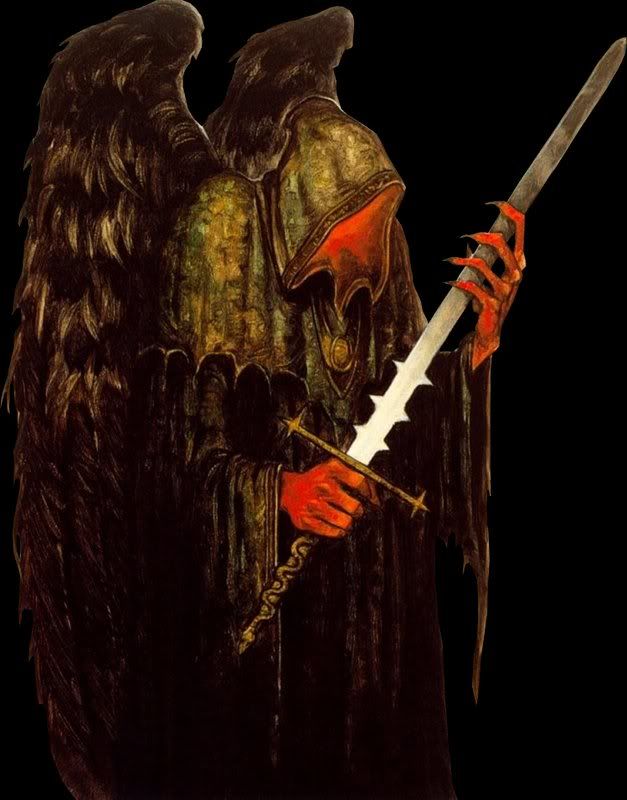 Titles/Honorific's:
The Taker
Height:
6'3"
Wing Span:
appears when shown to mortal eyes to be 12 feet long but the wings of this being have no true length.
Primary Weapon:
Interfector - The sword of this being of death is named Interfector, meaning killer, murderer, and assassin. This blade has laid claim in starting all forms of war and has been called upon time and again in order to commit dark deeds that no mortal would darecommence within the eyes of any good deity. Pontifex Mortis wields this blade as a tool to pass on those souls he has deemed worthy enough to lounge within the cold realm that this being inhabits but for those who he does not deam worthy he then sends them to their own proper place within the pits of hell to be judged before the masses. Interfector is not an ordinary blade as it seems to actually excreate poison from the flat and onto ther edge of the blade when held in the hands of someone who truly worships this divine being along with empowering anyone who wields it with dark energies from the deepest pits of the shadow realm. Within the hands of this God and to those who have been deemed worthy they can embue their spells within the blade to create more potent effects so long as the sword is used only in the name of Pontifex.
Divine & Arcane Magics:
The divine aspects of the gods are few and many rarely consider that such a being as this would even have access to such heavenly gifts but who is to say that all Gods of light live in the heavens high above? Pontifex Mortis can call upon the light as well as the darkest reaches of the divines and grows more powerful with every soul he has taken or placed under his command. The ability to control the fires of Hell is a simple task but why stop there?