Physical appearance: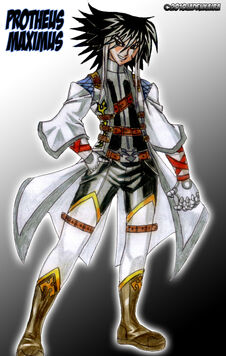 Personality:
His personality is a little difficult to describe. He originally started off as your typical ALL-MUST-DIE I-AM-SUPREME kind of person, but his experiences after millenniums have changed him. He is sometimes sarcastic, and easily annoyed. However, he can be impressed to an extent. He is overly cunning and a skilled analyst when it comes to many things, mostly involving combat and war. Still, it isn't difficult to see the ancientness in his eyes, and he in more ways than one can appear as an enigma.
Equipment & Abilities:
He possess a sword that can tap on the surface of time, reversing cause-and-effect. Every time he swings it, it slices through before he even moves his blade, and then his blade moves to match it a few seconds later. Due to this, it's very difficult to counter, but should it be countered, the 'effect' will have been negated and thus fail. Should this happen, he'll know that it'd have been countered and thus make a different strategy.
As the Herald of Darkness, the concept of death cannot be applied to him, and thus he will indefinitely regenerate from all wounds, all the while possessing extremely enhanced strength and abilities. As a sorcerer, he is also capable of vast amounts of ancient magic primarily based on darkness, and possesses an ungodly, near-infinite amount of mana to the point that, given enough time, he could very well wipe a planet off the face of existence. Key word:
given enough time
. Despite his unquantifiable power, the usage of spells are too impractical in the midst of combat.
Technically, he's a zombie so he does not generate any kind of heat, so his body can be surprisingly light.
Historical Background:
Now THAT...is a very,
very
long story that would take its own page to explain
. Having existed for ten thousand years, traveling all throughout time and space, he has done a great many things. Not all of them are good. Actually, hardly any of them are.