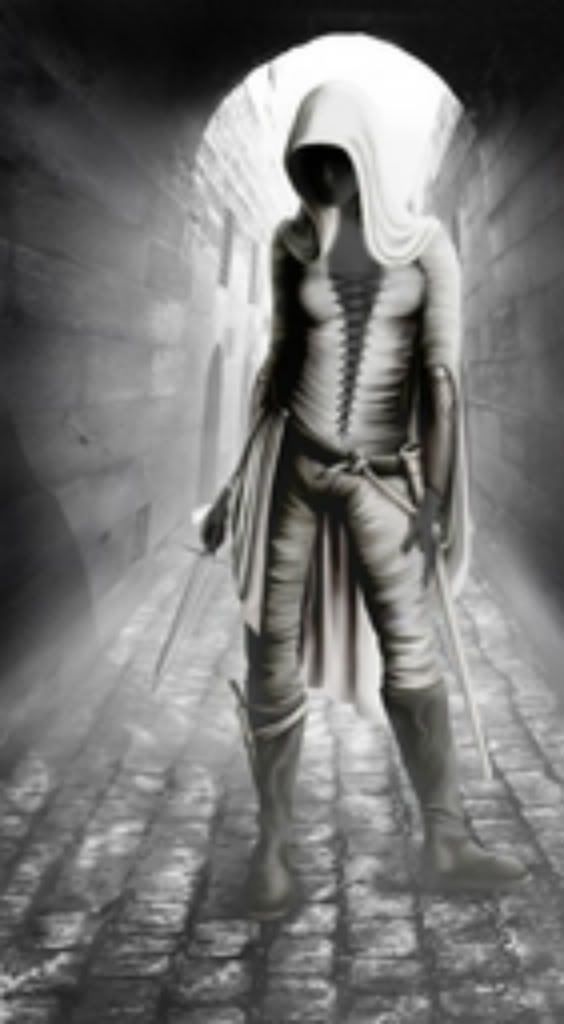 Full name: Sieana Liear Tra'thor
Nickname:Sie
Reason for nickname: Easier to say/pronounce.
Race: Drow.
Occupation/class: Rouge/ Thief.
Social class: Outcast among her kind.
Theme Song:
There For Tomorrow - The Remedy
.:|Physical Appearance|:.
Age: 80
How old they appear: Mid-Twenties
Eye Color:Crimson
Hair color length and style: White, Medium Length, braided.
Weight and height: 120 pounds, 5'7
Build: Slight, Willowy.
Skin tone: Purple, can be confused for black.
Shape of face: Triangular.
Distinguishing marks: Her form is littered with small scars. Along with this, she has a branding of a Cross on her right arm, given to her by a Paladin.
Predominant feature: Eyes.
-The woman appears almost sickly with her height and her slight weight, but it works best for her. She keeps her hair pulled back and braided close to her scalp, so that the heavy braid rests against her back and ends about two inches above the small of her back. She has large eyes, set beneath slender brows. Her nose is sharp, and her lips are full, but generally compressed in a thin line.
.:|Personality|:.
Habits: Likes to keep her hood up, hiding her face and line of vision.
Greatest Strength: Ability to listen, and see.
Greatest Weakness: Off-putting demeanor, arrogance, and prejudice against those of other races.
Biggest Vulnerability: Inability to express her need of acceptance.
Priorities: Learning about the world she's found herself in.
.:|Traits|:.
-Pessimistic.
Introverted.
Motivation: Love of learning, desire to know more about other races, despite her prejudice against them.
Talents: Lock picking, stealth, stealing.
Extremely unskilled at: Talking to people without coming off as pompous/arrogant.
.:l Equipment.l:.
The woman has a bow, made out of Hydra bone.
- This bow is enchanted by her necromancer friend, the Gnoll Fang Spirit. Three animals that she kills with her arrows from this bow, will turn into undead creatures for her to control, in a slight way.
- Her cloak, always wrapped tightly around her form, it is used to hide her figure and skin color, so that way she may attempt to disguise her race and not have to deal with racism.