Theme Song
The Batman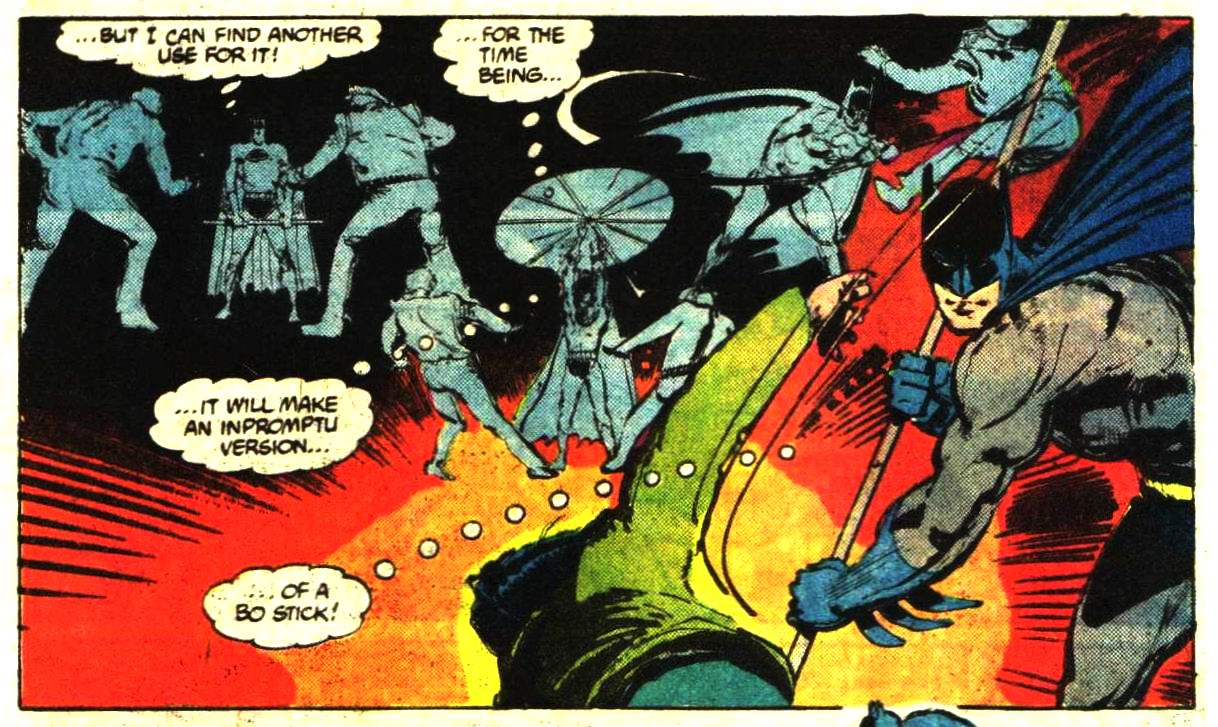 Name: Bruce Wayne
Aliases: Batman, The Dark Knight, The World's Greatest Detective
Occupation: Philanthropist/Detective and crime fighter
Bruce Wayne's personality is one of steadfast dedication to the cause at hand and of an unwavering personal sense of goodness. In his chest there beats the heart of a man whose dedication to justice knows no boundaries. He invented the persona of Batman in order to combat the injustices that plagued his home city of Gotham. As Batman, his personality shifts from one of a smiling, good-natured buffoon to that of a meticulous and strategic hunter of wicked men. It could be said that, from an outside speculative source, the Batman harbors a grand sum of mental instability. Such an assumption could be held as correct. Witnessing countless horrific incidents has definitely impacted the Batman's mental state, and could very well threaten his stability. However, his adept mental fortitude aids him to stave off such a collapse in his psyche, if only until he can take such torment no longer.
The Arsenal
Batman is equipped with a large arsenal of gadgets, tools, and vehicles in order to aid him in his crusade on the criminal underworld:
The Batsuit & Cowl - The most important equipment in Batman's array. The Batsuit made of flame-retardant material and is reinforced with Kevlar and other armored padding, as well as being outfitted with an electrical system in order to disable assailants that would try to remove his mask. The Cowl is equipped with advanced facial recognition software, night and thermal vision, as well as magnifying lenses. It also contains a receiver-transmitter, alongside audio de-encryption and signal-scrambling software. The cape, made of a fabric of Lucius Fox's own design, allows Batman to glide from the rooftops, responding to electrical currents in the fingertips of his gloves. All in all, the Batsuit is Batman's chief piece of equipment, serving in concealing his identity as well as instilling fear into Gotham's criminals.
Suit Variants:
Standard Suit
Armored Suit
Mech Suit
Spacesuit
Insider Suit
Batarangs - Bat-shaped shuriken made of stainless steel, used primarily to disarm and debilitate opponents, among other versatile uses. In the Batman's more-than-capable hands, they have succeeded in saving his skin numerous times. Variations include remote-controlled, sonic-emitting and explosive Batarangs.
Smoke/Gas Pellets - Pellets that contain gases to disable visibility and/or render foes unconscious, depending on whether or not the gas used is anesthetic.
Flashbangs - Grenades that release a device that temporarily impairs visionary and auditory capabilities to those near after detonation.
EMP Grenade - Grenades utilized to destroy all technological systems, such as surveillance cameras and computers.
Thermite Grenades - Grenades used to burn through structures.
Batgrapple - A gas-propelled grappling device used to attain higher ground or to traverse quickly over longer distances.
Acetylene Torch - A compact cutting tool that utilizes a focused laser beam to burn through susceptible objects.
Cryptographic Sequencer - Used to remotely access power boxes for shutting down electric fences and doors. Can also be used to access scrambled radio frequencies in order to further an investigation.
Batclaw - Similar in design to the Batgrapple, Batman utilizes this gadget to pull objects, or people, towards him.
Rebreather - A breathing apparatus meant to filter the oxygen within water into a breathable form, allowing Batman to remain underwater for as long as needed.
Batbeacon - A device that emits high-frequency transmissions used to attract bats.
Line Launcher - A device that fires a pair of cables, used to rappel across large gaps.
Lock Picks - Burglary tools kept in Batman's gloves, used to access locked doors.
Batmobile - An automobile customized to meet Batman's needs. Contains various artillery and other debilitating devices, and is outfitted with various layers of armored plating, ready for deployment or ejection.
Batwing - A jet used to patrol from the air. Much like its ground-based counterpart, it is armed with various weaponry.
Batbike - A motorcycle utilized by Batman for added maneuverability.
Batboat - A submarine used to patrol from the sea. Armed with torpedoes and radar, as well as stealth-enabling software.
Among Batman's arsenal are his physical and mental abilities. Having trained to utmost human perfection, and having mastered over 127 styles of martial arts, Batman is a formidable combatant in his own strength, which allows him to, even as Bruce Wayne, fight off the strongest of opponents. He has also attained mastery over the sciences, and has extensive knowledge of most any subject. His feats in theatricality and deception are key elements in his war on crime. His detective skills are widely regarded as the sharpest in the world, thus earning him his title. He is also an accomplished escape artist, having freed himself from many incarcerations placed on him by opponents who had managed to gain the upper hand on him in combat.
With an above genius level intellect, Batman is a contender unprecedented by few in this world. His mental prowess has devised many fool-proof strategies that have helped him succeed in countless encounters. Truly, the Batman's brain is to be feared much more than his brawn.
The Origin
Bruce Wayne was born into privilege, and to a loving family. Thomas and Martha Wayne were very well-loved and respected in the Gotham aristocracy, and often utilized the Wayne family fortune in various philanthropic pursuits. Needless to say, the Waynes instilled their spirit of generosity and morality into their young son. Ever the good-hearted ones, the Wayne family devoted their lives to the well-being of Gotham and its people, a lesson that reflected strongly into Bruce's own heart.
However, Bruce Wayne's life would ultimately change, forever altered by the dark realities hidden in Gotham's darker alley walls. As the family was returning home from a movie one dark night, they were approached by a shady man armed with a revolver. He very angrily demanded the Waynes' money, to which Thomas obliged calmly. However, once the crook set his sights on Martha's pearl necklace, Thomas was forced to intervene, receiving a fatal gunshot wound in the process. As Martha began to scream, the mugger trained his sights on her, gunning her down as well, silencing her for good. Just as the vicious man aimed at young Bruce, he was hurriedly ushered to flee the scene by an accomplice. With Thomas' last breath, he looked to his frightened son and reassured him with his final words: "Don't be afraid."
Left in tears in the cold and dark alley next to the dead bodies of his parents, Bruce felt his world collapse around him. The police finally arrived, keeping Bruce in their custody and trying all they could to comfort the boy until his butler arrived. Bruce was at a loss, blaming himself, telling himself he could've done something. The next day, he vowed to avenge their deaths.
Strengthening his body at an early age, he engaged in intense physical training and portion control, utilizing biofeedback to keep track of his progress. He also researched the sciences, all he could muster, and learned about everything his eyes caught a glimpse of. As he grew older, he began excelling in academic pursuits, acquiring degrees in chemistry, engineering, criminal science, advanced chemistry, and other rigorous fields. He would later travel the world in order to obtain the skills he would need in order to physically punish evil.
Upon returning from his travels, Bruce Wayne was greeted with open arms back into the seedy city's embrace. He used his return to establish himself within Wayne Enterprises as a typically clueless CEO. He also took up various philanthropic pursuits, in the footsteps of his parents, appearing to throw his money at whatever charity came calling. It wasn't long until he took to the streets, adopting a street urchin disguise in order to gain access to Gotham's underworld. Having a run-in with a group of thugs, Bruce managed to overcome his opponents, incurring a serious stab wound.
As he made his way home, bleeding profusely, he couldn't help but think that his disguise, while unsettling, didn't instill the fear he wished his targets to feel. He sat in his study, not bothering to call on Alfred to help him with his wound. Bruce merely sat, bleeding and brooding, looking to a stone bust of his father, praying to his memory for inspiration, a sign of what he must do.
Through the window came a large bat, which clung to the stone bust of Thomas Wayne, screeching in the dying Bruce Wayne's direction. Bruce took this sign as the ultimate calling to his destiny. "Yes, father," he said. "I shall become a Bat."
Thus, the vengeance of Thomas and Martha Wayne, as well as the vengeance of Gotham, was born.