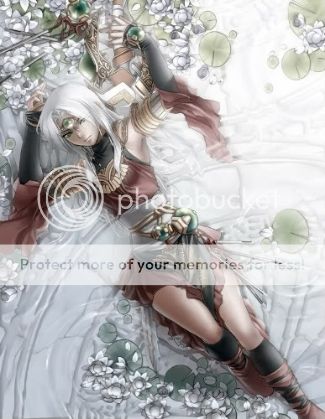 *This Artwork was not created by me. It belongs to shilin of Deviantart.
Name

: Airlia


Age

: 23


Species

: Human/Ethereal


Place of Birth:

Illumene, arastel


Current Residence:

N/A

Airlia is driven by the passions of the people around her. Riding the emotions of society, she can shift between emotional extremes of benevolence or outright wrath. She has an over abundance of pride and a high level of arrogance to match it. She values her freedom above all and despises anything and anyone that would deign to chain her down.

Airlia was initially created out of Jacquelyn's self-loathing for the things she gave up with her frequent poor choices in life. As a result Airlia despised Jacquelyn due to her belief that Jacquelyn chained her down and kept her from being truly free. Jacquelyn's own choices caused her to sacrifice everything, including her freedom which manifested as Airlia.

Though time and empathy has tempered Airlia's loathing of Jacquelyn, she remains a defiant force against the constrictions of freedom. She is both reckless and irresponsible, with her behaviors frequently getting the other personae into trouble and often times endangering herself, but she very much believes in living life to its fullest and is not afraid to play with fire.


Tiko wrote:"No quote can possibly hope to capture the essence of Airlia. Her arrogance breaches the fourth wall."