Name:
Johnathan Rhodes
Nickname:
Pierce,
Nate
Age:
19
Gender:
Male
Appearance: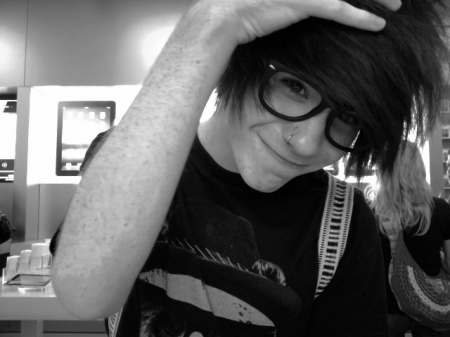 What are you ashamed of:
For being a Bisexual Emo teen.
Style:
Black, Piercings, Nerd glasses, Hoodies, Plaid, Skinny jeans, and converse.
Personality:
He's more to himself at sometimes, and is a more you stay out of my way, the more i'll stay out of yours type of person. He just doesn't like people getting in his personal business, not even his ungrateful, unloving parents. John tends to listen to music a lot so he is very musical, and can sing pretty good.
Likes:
Being told he's doing something right
Happiness
Black
Plaid
Skulls
Playing guitar
Singing
Neon
Hates:
His parents
Dream stoppers
Judgmental people
Bunnies
Light, bright colors
Being without the things he loves
At home
Being stuck somewhere he does not want to be
Fears:
Being held down
Being caught in depression
Dying of suicide
To much pain
Dreams:
Being a guitar soloist
Being a music artist
Crush:
Someone in the group
Secret:
Never told someone he cuts himself
Theme Song:
Three Days Grace - Pain