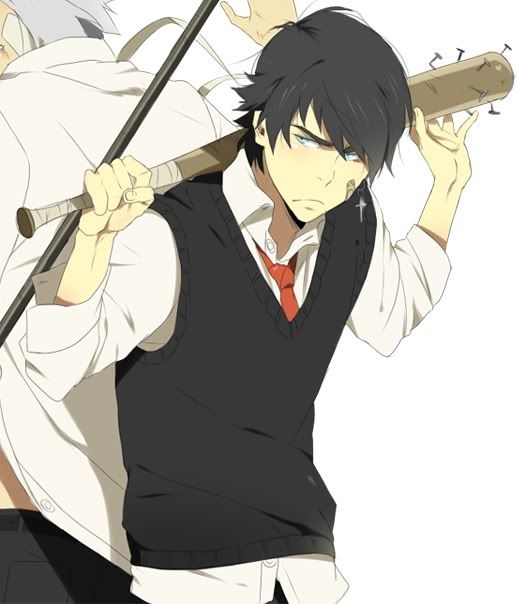 Full Name::
Luca Martin Feygor
Theme Song::
Theme 1 Music
Theme 2 Music
Gender::
Male
Age::
17
Rank::
Noble
Sexuality::
Heterosexual
Appearance::
Like his rank suggests, Luca is a noble and has the rugged charm to go along with it. Standing relatively tall (180 cm) and well built, Luca has a sublime presence matched by his river blue eyes. Young, yet somewhat rough, his messy black hair and sharp features lend well to his animated expressions. Luca can look good in anything, although he rarely makes the effort to do so. Frequently caught wearing casual clothes, Luca is a master of disguise and blends in well with any setting.
Personality::
Luca is nothing but an image, an aspiration. Cheerful, kind and somewhat mischievous, this is the façade Luca presents at all times. In this fashion, Luca often appears to be insincere as he glosses over comments or replies with a snide remark. Never one to remain silent, Luca isn't shy either. He is obtrusive yet secretive, jovial yet sly.
Luca is smart also, his ability to analyse and calculate situations has stunned even some of the best scholars in the academy. Yet behind the courteous smiles and tomfoolery lies a sinister, subtle existence. Luca's emotions are like a fine wire, in a snap his personality can go from cheerful to intimidating. Nothing pronounced like the rage of a psychotic, but rather like the suffocating atmosphere of looking into a mirror. Luca has an ethical code of sorts, defined by his strong albeit flawed, sense of justice. This is abolished the moment Luca snaps. As his mood changes, so to does his actions. Luca's mind has never fully recovered since the incident from his 9th birthday and he is still deeply troubled by it. Perhaps the most frightening part of Luca's personality though is his resolve. That he would stop at nothing to achieve his mission or goals.
Likes::
Pranks
Magic Tricks
Cooking
Newspapers
Journals & Memoirs
Autobiographies
Misfortune
Dislikes::
Conflict
Rabbits
Pineapples
Discrimination
Negligence
Blue Horror
Fears::
Excruciating pain
Relationship::
None
Skills::
Information & data gathering - A result of his amazing memory and his attention to detail.
Mixture of street fighting & martial arts - Contrary to his charming nature, Luca was quite the delinquent. He has a keen sense of handling himself in close combat ever since his dad, an ex-soldier, began beating him. The real truth behind his strength lies in his ability to adapt. It's uncertain when this began but for a long time now Luca has been purposefully using Blue Horror's sensory abilities on himself to train and heighten his own sensory thresholds. However, if possible, Luca always attempts to resolve conflicts diplomatically first.
Cooking - Having taken up cooking for his grandparents, Luca has become quite the masterchef.
Clubs::
Clothing Design, Boxing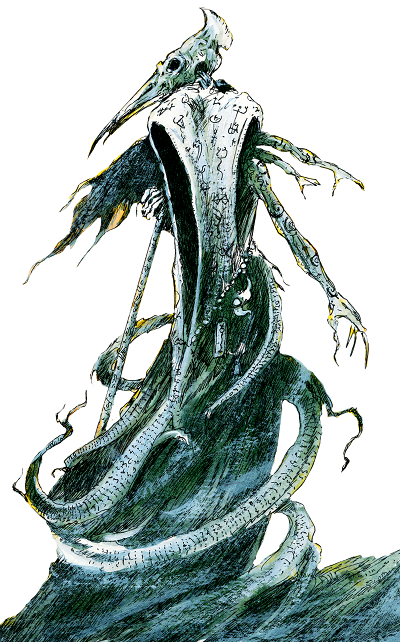 Name of Bond::
Blue Horror
Race of Bond::
Demon - Vassago
Personality of Bond::
Blue horror is an enigma, a disturbing existence that shouldn't exist by all rights. His relationship with Luca seems to be purely based on mutual necessity rather than the typical bond shared between humans and their Bonds. The Blue horror is a demon, or perhaps it is a mythological creature. Barely humanoid, it is a mass of rippling, blue tinged flesh with a chaotic mixture of limbs of various sizes. He wears runic red robes which seem to writh with a life of their own, swirling freely and openly, its very presence seems to warp reality around it. Preferring to travel alone, Luca is rarely seen with his Bond. Indeed, many often assume that his bond was simply killed. Luca hides the Blue Horror's presence at all times and keeps its true form a secret in public. Whether this is because Luca doesn't want to scare people or simply doesn't want to deal with the trouble of revealing the Blue horror's terrifying form is unknown. If necessary he simply covers his Bond in another set of heavy robes to hide its disquieting appearance.
Blue horror stands a good head taller than most humans (235 cm). It is an insidious creature whose form is born from the things of nightmares. Ironically, in contrast to its appearance, the Blue Horror is highly intelligent and if anything, much more honest and open than Luca. The Blue horror has an excessive appetite for learning and spends most of its time reading.
Skills of Bond::
Teleportation - Has a limited range of 100m, useful for getting to class if running late. It's not a traditional teleporting, but rather, Luca or the Blue horror must swap positions with inanimate objects they've come into contact with before, although Blue has much more freedom over this ability that Luca.
Gluttony – For brief periods of time, Blue Horror can choose to enhance or rob a being of up to 2 of its senses. These include touch, hearing, taste, smell, sight, balance and acceleration (vestibular system), pain (noniception), thermoception, kinesthetic sense (proprioception) and time (chronoception).
History::
It's perhaps prudent to say that life has been less than kind to Luca. Born in Kuttailec, Luca had a family of four, consisting of his mother, father and an older sister. Luca's father was an abusive and arrogant retired soldier who frequently took to beating Luca's mother. For the young boy, Luca was four when the beatings first began. Initially it was the bruises which first piqued his curiosity, but one night he witnessed the act first hand. It was a simple mistake to be honest. Stumbling out of bed, groggy, yet desperate to reach the toilet at the end of the hallway, Luca raced out of his room in the middle of the night. It was then that a quiet whimper caught his attention.
Downstairs, in the lounge room, there was the sound of struggling and a clatter of silverware. Investigating the source of the noise, Luca discovered his father beating his mother for the very first time. Luca was horrified at first. Seeing the anguished face of his mother, something dark and sinister grew within him. It was a seething, bubbling rage which no child should have been capable of exhibiting. Luca stormed in, interrupting his father and offering himself up in exchange. From there, Luca was punished severely. His father chided Luca's naivety and weakness and beat him till he was bloody.
Things would remain the same until his 9th birthday. Luca shared a close relationship with his older sister. She, more than his mother, was an inspiration to him because of her intellect and kindness. Luca had been beaten by his father ever since he was four but surprisingly this remained a secret between the two. The discovery was made on his 9th birthday. Confronting their father, Luca's sister intervened and made a formal protest. Their father's response was simply a violent and immediate slap. Luca's pent up rage over the past five years finally caught up to him. The years of anger, hate and abuse he wanted to throw back exploded as he took up a knife and lunged forwards murderously.
Luca's sister ended up stopping him, but it was she, instead of his father who was stabbed instead. Realising what he'd done, something snapped within Luca that day. The sense that nothing else mattered overcame all thoughts and all that remained was death. The true extents of the entire event are shrouded in mystery, especially with concerns to what happened afterwards. When the police arrived to investigate, they discovered the gruesome scene and a terrified kid all alone. Nothing else, not even the the parent's and sister's Bonds had survived intact. In the end the entire incident was wrapped up as a break-in robbery. The truth of what occurred was never discovered and neither where Luca's sins. Afterwards, Luca was adopted by his grandparents. An ex-general and ex-lawyer who sympathised with his situation and vowed to look after him in his parent's stead. So began his life as a noble.
Family::
Gregory Feygor (Grandfather)
Janice Feygor (Grandmother)
Other::
Lollipop