Zeke
Moore
full name:
Zeke Mason Moore
nicknames:
Zee, Messy, Mas, Izzy
age:
Twenty-two
sexuality:
No preferences
occupation:
Ex-pro swimmer; small time drug-dealer behing the scenes
hex:
#9316BC
x
x
x
x
x
Got tried with the law, they gon' drop all the charges,
Ho*s nowadays on the cautious,
Got called from my dog who supply all my sauces.
Juice
- Kris Wu


Zeke stands for 189 cm and is rather slim in figure, having toned muscles hidden underneath his clothes. He is rather tan, or at least he used to be in the past. His younger self always had rather proper haircut, and was wearing not much of rebellious clothes much against his true nature. He always had contradicting nature to himself, indeed. He preferred leather shoes to sneakers and tailored jackets to simple t-shirts and leather. He was always clean, and he valued that a lot, often looking like the good son like he pretended to be.

During the college life and after this, he changed quite a lot - he didn't care for the cleanliness much anymore and turned to comfort - ripped jeans, sneakers or military styled boots, t-shirts and leather jackets or long coats. He got himself not just a car licence, but also a motorcycle, which matched with his newly born bad boy look like a cherry on top of a milkshake. His hair was nothing like it used to be, and with the extra piercings came along several tattoos here and there. His style had changed, and Zeke didn't care what people thought of him - he dressed to pissed people off and to keep people off of himself, making a statement of sorts. Bright yellow furcoat was only one of those moments.


x




x




x




x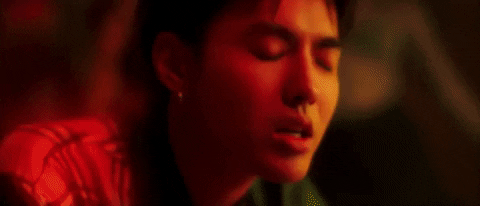 "Lord I'm on fire they think that I'm Satan,
Callin' me crazy on different occasions."
Antidote
- Travis Scott
The boy used to be very temperamental, when younger and he for sure didn't tolerate anyone opposing him nor harming his friends. Having so much anger deep within, he often shoved everyone else around him away and lived more into himself rather than being an extrovert. People didn't like him, yet they wanted to be his friend due to the wealthy background that he had and he hated it nearly as much as he hated his parents. People didn't like him, and thus kept fair distance from him most of the time. Zeke wasn't stupid and it was easy for him to understand the situations that were being played out, specially if someone was out there trying to ger ahold of something that he had thanks for the rich parents.

He has calmed down quite some, after being on the streets and having suffered a devastating trauma during his college life, causing him quite severe PTSD, he is still trying to do his best to live as normal life as possible. Although he indeed has calmed down quite a lot, but even then there are some parts of him that have gained volume. Nowdays he simply ignores if someone is trying to bullshit with him, but when the chances are that his mood is down in the hell due to not having any normal sleep again or waking up, covered in sweat and from burning nightmares, he won't hesitate to punch back.

The guy is often in denial that he is sad, specially when he is sober and denies that anything happened to him, and thus can look rather cheerful during most of the days. He is good at hiding his feelings from others having to learn it to keep himself distant from his family and friends that remained around him despite the death of this best friend that he gained at the college. Plus he has tendencies to push people away and make himself to be a loner in the fear of bringing unfortunate fate upon others, making them suffer in some way or fearing them leaving him alltogether - it used to be like that in his past, younger self, but is even more severe nowdays. The only person to get through that shell so far has always been Jackson Park.

During the best of his moods, he is rather friendly, goofy and sometimes sulking, often looked down as being cool and cold, though; capable of being a good company and friend if he has any desire for it; but it is well noticed that he has rather nasty mood-swings from time to time.

Overall, he just feels that people in general disregard his value for whom he is, and feels of how people take him after his family, which is something he hates to be associated with. His uncle, whom has died mysteriously, has been the only family ever that Zeke has acknowledged.
likes
✓pretending like everything is okay
✓being high, which helps him forget about his trauma
✓dogs and wolves
✓venturing into ruins or abandoned places
✓good music and underground concerts
dislikes
✘swimming
✘water
✘ his family
✘jax' mother
✘nosey, clingy and overly curious people
✘being made into someone he isn't
✘Being locked up somewhere and small spaces.
center]
"Gimmie all your kisses baby,
Cause this is bliss,
Gimmie all your kisses baby."
PCH
- Jaden Smith ft. Willow Smith


Born to the rich businessman, they lived in Oakhedge the high life. His father was abusive, pure evil and monstrous person, who didn't care about his kids nor about his wife much, and was overall a very greedy pig. Zeke, at first was nice and genuine kid, gaining fame with his talent for swimming since early age. Whichever school he was in, or whichever thing he took upon him - the kid mastered it in rather short period of time. Aside swimming, he was rather fond for dancing, and did that from aside of it, until he had no time and was solely focused on swimming - through which he managed to gain many fans, specially strange female ones that often managed to creep the boy out, but his personality changed quickly as he grew up.

He was kind of feared and seen as a troublemaker in school, nor giving a real damn about others and doing what he liked. Although, surprisingly, his grades were quite good despire him being absent a lot, he still did his best to get the scholarship into the college and become a professional swimmer. He became to live with his uncle, when he was just fifteen of age, and although he was summoned to the family mansion from time to time, he still did his best to be there. His father, fearing of the family' secret life indoors to be revealed, let Zeke move away from home. For the public, they simply stated that Zeke was going to offer a company to his uncle, whom had been living alone for a long time and was becoming to turn senile a bit, or any other believable reasons.

In the midst of everything that was going on, he found out that his father had been cheating on his mother with someone close to home - businesspartner' wife. Zeke knew the kids of that family, and he knew Jackson. Although they weren't particularly close friends at that time, Zeke hoped that perhaps one day they would. Right before Jackson was about to leave for London, Zeke ran to the airport right after finding out and this is where their friendship and strange union had bloomed. They have been in close contact ever since.

Zeke left home town and headed towards his dream and bright future, only for it all to collapse once again.

During his college years, he wasn't at first interested in this girl nor was she in him; until they somehow found mutual levels of communicating and mutual circle to go out with. They ended up in a relationship, and although she was wanted by many men, Zeke was the one to win her heart in one way or the other. The happiness didn't last for long, until something rather drastic changed his life throughoutly.

Zeke was kidnapped by some fellow students, whom had not just been jealous but also feuding against him for managing to get the girl that was in their gang and chased after with no effort. He was badly injured and after finding himself in the middle of nowhere - a desert of sorts - he understood that he had not been the only one to be kidnapped. His best friend, whom he befriended at college, had gone with him, as they had been hanging out for some time; and he woke up in a trunk which was opened up. Jax looked for his 'brother', but saw him nowhere, only to hear loud shriek of pain from the distance, behind the car. He quickly stood up and followed the sound, hands still tied; and stopped on the edge of the small lake, his best friend in the middle of it, drowning. He was about to launch himself into the lake, as some hands grabbed him and he then understood - it was all planned by some nasty fangrils of his due to the jealousy and not being able to get Zeke. He was being held back, while he watched his best friend to drown and die.

After this, the boy wasn't able to enter the water anymore and he had to resign himself onto another course, because his swimming-days were over. He was constantly suffering in his mind and ended up finding party, drugs and alcohol for himself, due to the pain he felt for losing not just his best friend, but the other two things he loved - his girlfriend, with whom he broke up with after it and swimming.

He took on the habbit of drugs and alcohol, hanging out with strange crowd and picked up dancing again, causing problems and other possible crimes. He was finally plucked out of the streets by his family and older brother, whom had made him go through therapy. Although they dried to bring him back home, he had refused, but after the death of his classmate and after the mysterious death of his uncle, he had returned.