Everybody has heard of the crazies at Death's Isylum. Guess what you are one. you either are halusanating, skizofrenic, hearing people in your head addiced to the drug of you choice, depressed, or paranoyed. there fights love death and torture. in the Isylum there is your rooms, the cafateria/gym. the small meaddow outside and the basement. The basment is where you go if your bad and dont do what the workers tell you to do. Most of the workers are abusive and cruel to the crazies. The crazies are like the rats and the workers well they're the cats.
rules are simple keep it clean no god moding and dont fight

crazies' skelleton

name:
bio/personalaty:
image link:
what makes you crazy:
lover/crush:

worker's skelleton

name:
bio/peronalaty:
image link:
job:
lover/crush:
These characters are currently marked as available. Why don't you consider viewing their profiles and making a decision on whether or not you can roleplay them accurately?
There haven't been any official reviews of this roleplay yet!
---
These poor, unfortunate souls were once a part of this great world, but have been abandoned. Why don't you consider viewing their profiles and making a decision on whether or not you can roleplay them accurately?
---
There are no places in this roleplay!
There are no groups in this roleplay!
There are no arcs in this roleplay.
There are no quests in this roleplay.
Topics

Replies
Views

Last post
Most recent OOC posts in Voices
name:Zmey
bio/personalaty:A very depressed person and hears voices telling her what to do.When the voices go away shes pretty nice,but catch her at the wrong time and you could be murdered,depending if the "voices" like you or not.
image link:
what makes you crazy:My mom was murdered in front of me and my dad held a gun to my head.I hear voices and I'm really depressed.
lover/crush:Unknown
---
Name: Victoria Hutchenson
Age: 16
Personality: Victoria is very depressing and doesn't like to hurt people, but Lynn and Joey make her hurt them anyway.
Bio: When Victoria was little, her parents noticed that she seemed to be talking to people that weren't there. They always asked her, "Who are you talking to?" and she would always replied, "Lynn." And when Lynn wasn't around, her twin brother Joey was in her place. Victoria kept trying to get rid of Lynn and Joey, but they wouldn't go away and they made her do stuff she didn't want to. It got to the point where she would make friends, but Lynn and Joey made her kill them. Her parents saw this was getting to be serious, so they sent her to the asylum, before she could hurt anyone else.
image link:
what makes you crazy:
Lynn and Joey.
lover/crush: No one.
---
Name - Darkness.. No! No.. My name is Curtis Maiden

Age - 17

Bio - I'm a good person, that's why I shouldn't be here, but they won't let me leave until Darkness leaves me alone. He'll never leave me alone, he lives in my head and he thinks he is me. Sometimes when I go to sleep, he uses my body to hurt people and break things. Any friends I make I try my best to keep, I just try not to let Darkness mess it up for me, he's the reason I'm here you know? If someone needs my help, I'll help them, to show I'm a nice person, I'm a good guy.. I'm a really good guy.

What makes you crazy: Darkness makes me crazy.. He thinks that he's me.. but really he's just in my head.. Just in my head.. I twich sometimes.. but I don't think that's because I'm crazy.. I see silly things climbing the walls.. you see them too right? Right?! Of course you do.. I'm not really crazy.. I'm just here for the fun of it.. I can leave when I want.

Lover/Crush: He could never get a girlfriend! He's pathetic.. You don't know that! I could get a girlfriend easy!
---
name: Rosemarie Johansson
Personality: Rosemarie is quiet and not very social. People often find her talking to herself and when asked about it she explains that she was talking to Alice. Rosemarie is not very violent but if anyone talks bad about Alice or tells her she is not real she becomes angry enough to hurt someone.
bio: Rosemarie or "Rose" as her parents called her is an orphan. Her parents died when she was seven years old. The police suspect foul play although they have no idea who could have killed them. Rosemarie was sent to an orphanage where her only friend was an imaginary girl named, Alice. Rose talked to Alice all the time and the workers thought nothing of it because she was so young. None of the other kids ever came near her and often teased her, younger kids were afraid of her though. When Rosemarie turned 16 there was an incident. A new girl, who had become close to Rosemarie was injured badly after having an argument with her. The girl told the orphanage workers that it was Rose who had hurt her and when they confronted Rose about it she blamed Alice, like she always did whenever something bad happened. When they told her Alice wasn't real Rose became hysterical and actually tried to hurt one of them. The Director of the orphanage finally decided it was time to admit Rosemarie into an insane asylum.
image link: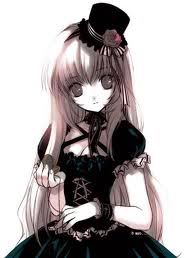 what makes you crazy: Believes her imaginary friend, Alice is real.
lover/crush: none
---
Tell me when the role play officially starts.
---
---
This is the auto-generated OOC topic for the roleplay "
Voices
"
You may edit this first post as you see fit.
---