What they did to me, what I am, can't be undone. They wanted an animal... they got one.
---
---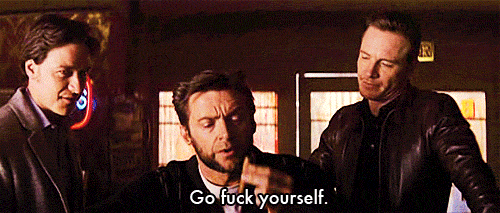 Full Name
James Howlett/ Logan
Nicknames
Logan, Runt (only by his brother), Weapon X
Species
Human Ex-Assassin with spliced werewolf dna
Sexuality
Heterosexual
Age
42
Height
5'8"
Weight
195 lbs
Scars?
Logan has no scars on his body due to his regenerative healing factor.
Physical Appearance
Logan has deep, dark brown eyes that seem almost haunted and feral. His facial features are rugged yet handsome despite his prickly persona. He tends to keep his beard shaved into mutton chops. His body is thick with muscle. Fortunately his healing factor doesn't have an off switch so his muscle constantly tear and rebuild under the strain giving him that bulk in muscle. His hair is medium length but can be a bit messy at times given his minimal interest in up keep.
---
I'm the best there is at what I do, but what I do isn't very nice.
Logan is a gruff loner who has a strong sense of personal honor. He also has a wild, animal-like nature to him and a savage, almost "berserker," rage which he tries to control. He is also perfectly at home in the wilderness. Logan is fearless, brave, and dangerous. Logan doesn't trust easily and in fact views most people he meets with suspicion and aggression. Usually people know well enough to just leave the man alone but when they don't they usually learn quick that they would have been better off just leaving this surly loner be. The most defining aspect of Logan's personality is the amnesia that plagues him. He remembers nothing of who or what he was before waking up in the woods covered blood. He has no idea how he has the abilities he does. He knows he has nightmares though, almost nightly he wakes up screaming from the latent memories of torture or slaughter.
Most people could say that Logan doesn't much like anything besides hard alcohol and cheap cigars. Most people would generally be right but there are things that Logan sees value in yet denies himself currently. The ideas of finding a wife, settling down and abandoning his dangerous, bloody life style are dreams of his.
Logan recognizes the savage side of himself, the animal side and it scares the shit out of him. Losing control and giving into that beserker side of him is something Logan constantly battles with. It seems to be a fear ingrained deep within him that giving into that part of himself, going to that place he fears he may not ever be able to come back from it. As a result even in the midst of a savage, bloody encounter Logan may stop himself, or at the very least try to in order to curb his natural propensity for violence or bloodshed. Despite his seeming nonchalant attitude towards violence and killing he doesn't enjoy hurting people and in fact can be found often trying to protect people when he can. He may say he doesn't care, act as though he could care less whether or not those around him live or die but that is not the case. The truth is Logan is an honorable man with a animal within.
Logan has received training from his time in The United States Armed forces and The Wolfsbane Warriors. While he may not fully remember his time in either organization the training is still there none the less and he uses it to it's full potential. Beyond his military and spec operations training Logan's dna has been spliced due to highly extensive gene modification procedures undergone during his time with the Weapon X program. The gene modifications grant Logan a highly advanced healing factor allowing him to heal from tremendous amounts of grievous wounds that would kill a regular human being. The severity of the injuries dictate the time in which is needed to recover ranging from instantaneous to a matter of several hours. The regenerative quality of his body extends far beyond physical trauma. Logan is nearly immune to most forms of tranquilizers and poisons, instead needing massive quantities to take any sort of effect. A quality often displayed in his need to drink nearly everything behind a bar before he can get drunk. Beyond that he posses heightened senses especially his sense of smell and hearing. Beyond his offensive and combat abilities Logan is an expert tracker and woodsman.
---
Eternity can be a curse. A man can run out of things to live for, become a Ronin—a Samurai without a master. Vengeance can only sustain a man for so long.
Once upon a time there lived two young boys, James 'Jimmy' Howlett(age 7) and Victor Creed(age 10), who both resided in the Northwest Territories of Canada. The boys were close friends, though Victor-whose homelife was quite a bit more worse off than Jimmy's-relied on the friendship like he relied on air while Jimmy just admired Victor's temerity. However, their lives were forever changed when one night Victor's father came to call as Victor was sleeping over at his friend's home. The man staggered in the doorway, drunk and enraged, crying out a name...but it was not Victor's name he called, it was Jimmy's mother's, Elizabeth's. Jimmy's father, John, then ventured downsatirs, leaving the pair of children in James' room to find himself staring down the barrel of a loaded pistol. At the sound of a gunshot, Jimmy raced downstairs to witness his father dying, and his mother watching helplessly from Thomas Creed's grip. Victor's father released her to confront James, tossing her aside to tell him that it was time that he learned the truth. However, James was far too angry to listen, running back upstairs past Victor to retrieve the gun from his father's nightstand drawer. With a pained cry, he made it back to the bottom of the stairs before firing the gun, the bullet miraculously finding it's target, hitting Creed square in the chest. The man slumped to the floor, and with his last breath, told James that the man he killed was not his father, and that HE is in fact James's father. James was confused, angry and scared, and upon looking to his mother, she appears to be afraid of him, asking "What have you done?"

Jimmy ran outside, pursued by Victor, who tackled him. James immediately, with tears streaming down his face, cried that he did not mean to kill the man, thinking that Victor was angry about his father's death, but instead of accusing James, Victor told him that his father got what he deserved. Victor then noted that they were in fact brothers, and they must look out for each other now, and get rid of anyone who gets in their way. He convinced James to not go back inside, that his mother would never accept him because he was a killer and the boys went on the run together.

Flashforward to years later, the boys-now hardened men-had run as far as America and enlisted in the United States Army. They were then moved to be based out of Budapest Hungary. There, in Budapest, the brother's thrived. War suited them both finely. It wasn't until they were sent out on patrol to recover a missing officer that things went south. When their troop found the AWOL captain he was in a transition, phasing into a werewolf. The officer slaughtered every other member of their squad before James and Victor were finally able to bring him down. When they returned to base, the US army didn't believe their story, instead believing the brothers must have turned on and murdered the men themselves, and brought them in for execution on the firing line. Facing down the guns, Victor said, "Live together, Fight together, Die together. Fitting enough, brother." Grateful if he had to die, it'd at least be by his brothers side. Luckily for the pair of them, the gun squad was called off so a man by the name of Daniel Huston could speak with the prisoners.

Turned out the man was a rather high ranking offical with an alternative to offer them. He gave them a choice, between being executed, and being part of a specialized team, with "special privileges." The Wolfsbane Warriors. He revealed that Werewolves were still alive and present today and that the men had demonstrated exceptional and invaluable skills that he took a particual interest in. The brother's, obviously, took the latter option and joined the force.

Flash forward once again a few years further to both James and Victor, fighting side by side on a different sort of battlefield. They were two of the top Assassin's and while Victor prided himself on this, it left James feeling a bit ill at ease. Then one faithful night, his uneasy emotions came to a head as they executed a mission that was decidedly resting in a moral grey area. A group of Fencers-humans who sell and for to Werewolves-were herded up at gunpoint and questioned. Huston threatened the lives of all the Fencer's, saying that he would kill them all unless they told him where the wolves were hiding. Most of them didn't know, and those who did refused to tell, so Huston gave Victor the permission to butcher everyone, who complied with alacrity until James stopped him, turning on his brother and fighting. Jimmy was able to calm him down, as the Fencers escaped, and realizing what he has become, James decided to quit and asked Victor to go with him. Victor refused to leave, and said that they wouldn't just let him just walk away; James ignored him and raced off into the night, evading capture.

James spent the next year and a half bar hopping across the norther United States into Canada. That is until he is tracked down by a military scientist and long standing professional rival of Daniel Huston. The scientist Dr. Erik Lensher, is a genius geneticist, weapons manufacturer and biologist. He and Hutson have been running in the same professional circles for years and constantly have been battling it out for work related accolades.

After catching wind of Hutson's snafoo with the Fencers and the now AWOL agent Lensher puts his own unit on the task of tracking down Howlett which they do after a while. Lensher had been working on his own formula for enhanced combat effectiveness through the augmentation of lycan dna like Hutson. The primary difference is that Lensher's method, code named Weapon X, is considerably more permanent and a hugely more dangerous gamble in that the bonding process has a 96% kill ratio on it's host. Unable to get clearance or a willing volunteer for human testing he seeks out Howlett hoping he'd have a willing volunteer with the proper leverage.

Lensher gave James a simple choice. Submit to the Weapon X program or die. When Jimmy spit in Lensher's face in response to his offer Lensher played his trump card, Victor. Jimmy's brother was still a member of Wolfsbane and still easily reachable. Lensher assured him that if he didn't submit he would have Victor killed. Reluctantly Logan agreed in the secret hopes to use whatever power Lenhser offered to free himself and his brother form Wolfsbane once and for all. Logan is given a new set of dogtags with his new Operative distinction, Wolverine. Lensher then uses his own method of splicing the human genome with that of a werewolf to create a true hybrid. A man with many of the heightened abilities including the regenerative healing factor and senses but lacking the ability to change into a wolf form and risk becoming an unruly monster.

The gene splicing was a complete success but something went horribly wrong towards the end. The unimaginable pain experienced by James during the excruciating process was only just bearable for his body to handle and survive but his mind snapped from the strain. James erupted out of the experimentation chamber like a wild animal with a thirst for blood. he carved his way out of the facility killing everyone in his path, screaming and roaring like a mad man.

It wasn't until after the escape, and losing his hand to logan, did Lensher realize what had happened. The pain was so great that it caused James to lose his memory. He knew nothing about who or what he was and only that he was trapped and the people around him were hurting him.

On the run again Jimmy, now going by Logan as he doesn't know his name, unknowingly is revisiting old haunts merely out of a latent familiarity to them. He's a man on the hunt looking for some clue as to his past, some sign as to who and what he is and above all else, who is responsible for turning him into a monster.

Theme Song
Ain't No Grave (Gonna Hold My Body Down) || Johnny Cash

There ain't no grave
Can hold my body down
There ain't no grave
Can hold my body down

When I hear that trumpet sound
I'm gonna rise right out of the ground
Ain't no grave
Can hold my body down

Well, look way down the river
And what do you think I see
I see a band of angels
And they're coming after me

Ain't no grave
Can hold my body down
There ain't no grave
Can hold my body down

Well, look down yonder, Gabriel
Put your feet on the land and sea
But Gabriel, don't you blow your trumpet
Until you hear from me

There ain't no grave
Can hold my body down
Ain't no grave
Can hold my body down

Well meet me, Jesus, meet me
Meet me in the middle of the air
And if these wings don't fail me,
I will meet you anywhere

Ain't no grave
Can hold my body down
There ain't no grave
Can hold my body down

Well meet me, Mother and Father,
Meet me down the river road
And Mama, you know that I'll be there
When I check in my load

Ain't no grave
Can hold my body down
There ain't no grave
Can hold my body down
There ain't no grave
Can hold my body down
FaceClaim || Hugh Jackman