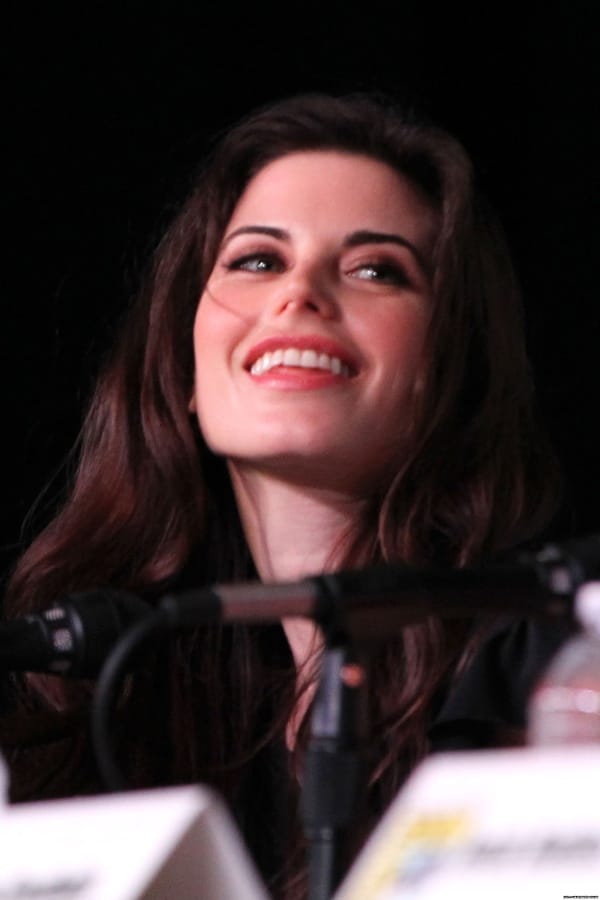 "Come on, it'll be fun!"
---
---
Melanie Johnsheed
Nicknames
Mel
Species
Werewolf
Sexuality
Heterosexual
Age
34
Height
5'9"
Weight
Thin, about 126 lbs
Scars?
There are faint bite marks on her right thigh from the wolf that turned her
Physical Appearance
Melanie has darker locks than her brother, but her eyes are also a green color. Instead of hints of blue, she has some hazel in them. Her hair falls just past her shoulders in light, natural curls. Mel enjoys to wear skimpier clothing, something that she would never have considered before she was turned.
---
"Wolfsbane Warriors can bite my ass"
Melanie has always been impulsive and somewhat loud, and these two aspects of her personality were amplified when she became a werewolf. Her sense of humor is dark, and she enjoys sharing jokes with those around her. Melanie is a complete flirt, enjoying playing with the hearts of men, along with...other...appendages.
Melanie likes hanging out at the club, with a few other wolves or by herself. Her favorite colors are red and silver, and those that know her find the latter ironic, considering her species. She loves to dress up, even if her room underground is simplicity itself, including merely a bed, dresser, closet and boombox with a pile of CDs from Pat Benator to Joan Jett and the Runaways. Melanie also loves being around kids, and wistfully dreams of having a real family.
Melanie is finds country music irritating. She also finds smoking disgusting, feeling like people need to take better care of themselves. Though she teases her friends lightly, she can't stand bullies, and will always stand up for the underdog because of it. Because of the Wolfsbane Warriors, she has a general dislike for law enforcement, or government officials in general. Melanie also has a need to be with someone, hating when she's alone.
Oh, and keep blood away from her dress, or she will bite.
Melanie needs to be around people, and hates when she's alone. It probably is in connection to the fact she was forced to leave her family when she was sixteen years old. Because of this, she's willing to be less choosy about her friends, not always making allies with the right people. Since she is loud and brash, some people find her immature and silly.
Melanie can be very seductive, using this in clubs on a nightly basis. But she is also nice to people, even if her personality isn't exactly what they expect in a friend. She is skilled in hand to hand combat, and agile, even for a werewolf.
---
Melanie's older brother is Ryan Johnsheed. She was born two years after him to their parents Nathan and Sarah. Mel's mother died near her eighth birthday in a werewolf attack. Ryan and Mel were best friends, earning the pair the nick name 'Bonnie and Clyde' from their father. Melanie was a trouble maker, but it was never really her fault (according to her, anyway). Unfortunately for Ryan, she would always drag him into things with her, which ended up with him taking most of the punishment. When she was sixteen, her friends drag her out to a party. The party was hosted by a werewolf, who was looking for new pack members in his group of nomads. Unfortunately for Mel, he decided to bite her after she got drunk. She was thrown a curve ball as she learned to deal with the changes in her life. Fifteen years after her change, she heard a story about a pack member having killed a woman in New York around the time her mother died. Believing that he had murdered her mother, she killed the wolf, shocking the pack. She was immediately expelled, sent to live out as a rogue. Within a week, however, Melanie met a member of the Sector Two Pack.
Now Melanie is best friends with Jared, the two sharing close secrets. Like she used to with her brother, she now drags him out to socialize, whether he likes it or not. Mel also knows Lauren, calling her 'Ms. Jared'. When they first met, Mel didn't know her name. Since then, the name stuck. Melanie wouldn't dream of telling Jared, but Mel is also hoping that they end up more than just close friends.
Theme Song
Bitch || Meredith Brooks




I hate the world today
You're so good to me
I know but I can't change
Tried to tell you
But you look at me like maybe
I'm an angel underneath
Innocent and sweet
Yesterday I cried
Must have been relieved to see
The softer side
I can understand how you'd be so confused
I don't envy you
I'm a little bit of everything
All rolled into one

I'm a B****, I'm a lover
I'm a child, I'm a mother
I'm a sinner, I'm a saint
I do not feel ashamed
I'm your hell, I'm your dream
I'm nothing in between
You know you wouldn't want it any other way

So take me as I am
This may mean
You'll have to be a stronger man
Rest assured that
When I start to make you nervous
And I'm going to extremes
Tomorrow I will change
And today won't mean a thing

I'm a B****, I'm a lover
I'm a child, I'm a mother
I'm a sinner, I'm a saint
I do not feel ashamed
I'm your hell, I'm your dream
I'm nothing in between
You know you wouldn't want it any other way

Just when you think, you got me figured out
The season's already changing
I think it's cool, you do what you do
And don't try to save me

I'm a B****, I'm a lover
I'm a child, I'm a mother
I'm a sinner, I'm a saint
I do not feel ashamed
I'm your hell, I'm your dream
I'm nothing in between
You know you wouldn't want it any other way

I'm a B****, I'm a tease
I'm a goddess on my knees
When you hurt, when you suffer
I'm your angel undercover
I've been numb, I'm revived
Can't say I'm not alive
You know I wouldn't want it any other way