Basic Information;
"You win the game, or you die trying. I intend to win."
Name:
Phaedra Brehon
Age:
114
Race:
Magician
Ethnicity:
Caucasian
Orientation:
Heterosexual
Relationship Status:
Single
Role:
Dealer
Faction:
The dealers
Abilities:
Telekinesis
Best Feature:
Knowing when to be quiet and when to go for broke. Also, subtlety.
Appearance;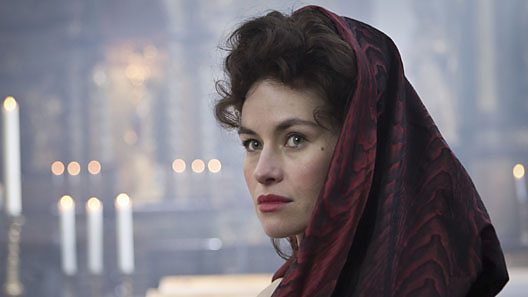 Phaedra stands at 5'5 and has a far from intimidating physique. At the lower end of the ideal weight for someone of her height, Phaedra has a very narrow and slight build, particularly noticeable in her shoulders. She has dark curly hair which, on the rare occasion that she wears it down, reaches to her waist and green eyes. Phaedra takes great pride in her appearance and rarely has a thread out of place. Everything is intentional. Phaedra favours dresses similar to those seen on a medieval noblewoman. More material means she had more places to had supplies and weapons. Her weapons are often hidden in her sleeves or in the folds of her skirt. She prefers colours at the more gothic end of the spectrum and is never seen without wearing her choker. Make-up wise, Phaedra keeps things very simple, often wearing lipstains of varying shades of reds and dark pinks. The eye make-up is minimal, rarely going beyond a light usage of eyeliner.
Personality;
Manipulation is the game Phaedra plays best at. She is very good at bringing people around to her way of thinking. Many people who know of her question Phaedra's loyalty, but her true loyalty absolutely lies with the Dealers. Phaedra is rather aloof and keeps her distance from the Dealers in large gatherings. Phaedra isn't exactly a people person and barely tolerates the existence of most people, unless they can be of some use to her. To those not connected to the Dealers, she is superficially charming and flirtatious, all while trying to weasel as much information out of them as possible. Phaedra is a patient woman, and has a very long fuse, but woe betide the soul who pushes her too far. Despite her cool exterior, Phaedra has a fiery temper and violence wise, her hands are not the cleanest. While she's distant at best, when she's in Dealer mode, Phaedra is downright cold and ruthless. She's sees this whole thing like a game, and is playing to win, no matter who she stands on or hurts along the way. She rarely forms emotional attachments to people, because she knows that eventually she will have to cast them aside to further her own ambitions or they'll let her down. It always happens that way. In the rare event that she actually likes someone, they find Phaedra an altogether warmer person. She has a great deal of time for people with ambition, people who want to change the world, and has great respect for her fellow dealers and treats them with the courtesy she would hope to receive from them in return.
Likes;
Fine wine|| Full skirts|| The Dealers|| Autumn|| Ivy||Horses|| Daggers|| Chess
Dislikes;
The rulers|| Most people|| Roses|| Gardens|| Heavy make-up|| Being rushed
Hobbies;
Collecting ornate daggers|| Fine tuning her abilities|| Gathering information|| Reading|| Playing chess
History