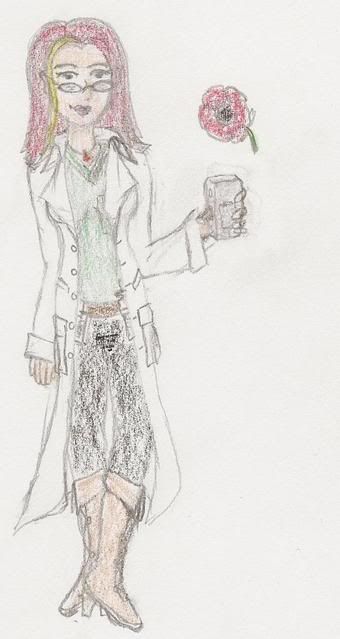 'Dr'. Poppy Damiana's appearance, while sometime harried and frazzled, has nonetheless been created to be an attractive techbot. When on the job her red hair is most often kept back in a soft, messy bun, though her blonde streak (gained when trying to repair a defibulator that was on the fritz) is rarely contained within it. When not in the daytime emergency cyborganic clinic, her hair falls to her shoulders in firey sheets. Her slightly glass-like eyes are the blue-green of the Mediteranean, and are usually smiling. They are usually situated behind a pair of small, black, oval framed glasses, which she has fitted with something of a transparent HUD. She is often seen peering over them when working, as they can be something of a sight hinderance...
Poppy is 5 feet, 5 inches tall, looks around 25 years old, and, while not slight, is smaller in build, allowing her to fit into the spaces where her occupation sometimes requires her to be.
Poppy's work clothing consists of a slim fitting multi-pocketed white labcoat, faded black cargo pants, a usually olive green 'scrubs' style shirt, rubber-soled, steel-toed, yet somewhat feminine, brown boots, and an earth-brown toolbelt. When not on the job, she is usually seen in a white, stain resistant, form-fitting, ankle length trench coat, evergreen tank top, charcoal coloured jeans under calf high, chocolate brown (rubber-soled) boots... and a smaller version of the toolbelt. Poppy is also rarely seen without her red-cross necklace, a tasteful pair of crossed wrenches done up in tiny red glass stones, worn up close to her collarbone.