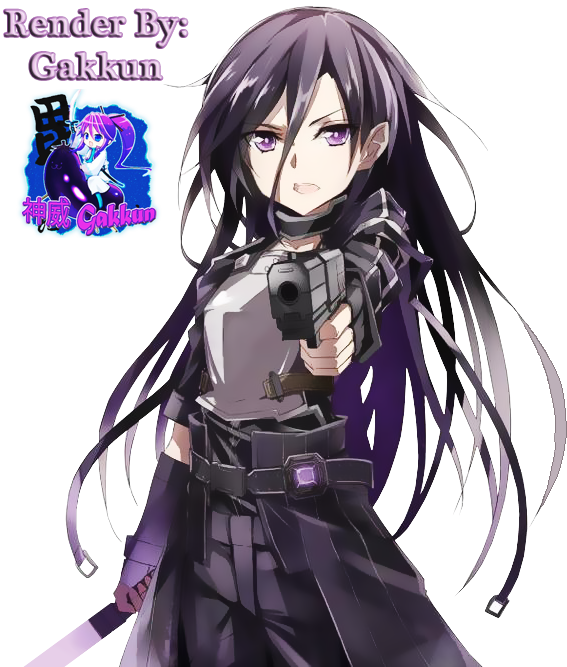 Staring at a photo of Kazuto's GGO avatar, which looked like her, Gyra Nytehauk ran a hand through her raven hair. Frustrated with her love's homophobic asshole father's decree of banning her from seeing her. She was sorely tempted to drive into ALO and hunt in game bastards for a reward. "Kaza, I miss you so much. Wish that I was with you." Gyra states softly. Slamming her fist on the desk she grabbed the cell an ex gave her. 'Be home.' she mused, dialing one of the few numbers she knew. But it went straight to voicemail, 'Damn, she must away or already in game.'
"Suguha, I'll be in Swilvane in about twenty minutes, if you can meet me, great, I need to blow off steam. But if you can't that's fine. See you whenever I see you." Gyra said quickly before hanging up. Placing the cell down she shuts and locks the bedroom door. "Not repeating the 'accidental' groping incident. Don't need to have that asshole getting happy." she stated aloud. Remembering her step-o locking her door whenever she dove into ALO. Cracking the window open she smelled the monsoon storm raging outside. Letting her hand feel the raindrops Gyra could almost feel some peace seep into her soul. Glancing back to see her cell flashing, she went over and read the text. A sudden burst of happiness ran through her.
'Sinon has messenge from Kaza for me.' Gyra thought, while grabbing her NERV gear and laying out on the bed. Setting the gear on her head, she powered it up while taking a deep breath. Closing her eyes, she thought of Kaza and shivered in anticipation. While she was glad to have some contact from Kaza, a part of her wishes it didn't have to be through a middle man. 'But at least I can read something from her.' Gyra mused, 'Even if it through Sinon.' With one last breath that settled any remaining thoughts, she said, "Go."
Opening her eyes as she came to in the field just outside the Slyphs territory Gyra strenched out. "Hi Huntress, welcome back." Nodding at the low skilled imp she stood, sighing slight as she guessed how far her flight will be to Swilvane. 'Better get started.' Gyra thought, bringing her wings out. Zooming straight up she felt better than she did before. But no much that the thought of hunting assholes still wasn't tempting. "Sinon first Nytehauk, then you can pk to your heart's content." Gyra states nodding again. Aiming towards Swilvane, she rocketed forward at treetop level at maximum speed. 'Love you and miss you Kaza.'
Minutes ticked by as Gyra weaved through the slow moving players in her way. Reaching Swilvane, she lands hard with long skidding stop. Standing, she saw Sinon leaning on a wall and nods. Closing the distance between them Gyra hugged Sinon. "Hi Gyra, follow me." she heard Sinon said. Following her out of Swilvane, Gyra kept her pace just under Sinon's. 'How do I thank her for being the go between for me?' she mused.