Mankind in its present state has been around for a quarter of a million years, yet only the last 4,000 have been of any significance.

So, what did we do for nearly 250,000 years? We huddled in caves and around small fires, fearful of the things that we didn't understand. It was more than explaining why the sun came up, it was the mystery of enormous birds with heads of men and rocks that came to life. So we called them 'gods' and 'demons', begged them to spare us, and prayed for salvation.

In time, their numbers dwindled and ours rose. The world began to make more sense when there were fewer things to fear, yet the unexplained can never truly go away, as if the universe demands the absurd and impossible.

Mankind must not go back to hiding in fear. No one else will protect us, and we must stand up for ourselves.

While the rest of mankind dwells in the light, we must stand in the darkness to fight it, contain it, and shield it from the eyes of the public, so that others may live in a sane and normal world.

We secure. We contain. We protect.

— The Administrator
Mission Statement



Operating clandestine and worldwide, the Foundation operates beyond jurisdiction, empowered and entrusted by every major national government with the task of containing anomalous objects, entities, and phenomena. These anomalies pose a significant threat to global security by threatening either physical or psychological harm.

The Foundation operates to maintain normalcy, so that the worldwide civilian population can live and go on with their daily lives without fear, mistrust, or doubt in their personal beliefs, and to maintain human independence from extraterrestrial, extradimensional, and other extranormal influence.

Our mission is three-fold:

Secure
The Foundation secures anomalies with the goal of preventing them from falling into the hands of civilian or rival agencies, through extensive observation and surveillance and by acting to intercept such anomalies at the earliest opportunity.

Contain
The Foundation contains anomalies with the goal of preventing their influence or effects from spreading, by either by relocating, concealing, or dismantling such anomalies or by suppressing or preventing public dissemination of knowledge thereof.

Protect
The Foundation protects humanity from the effects of such anomalies as well as the anomalies themselves until such time that they are either fully understood and new theories of science can be devised based on their properties and behavior. The Foundation may also neutralize or destroy anomalies as an option of last resort, if they are determined to be too dangerous to be contained.
---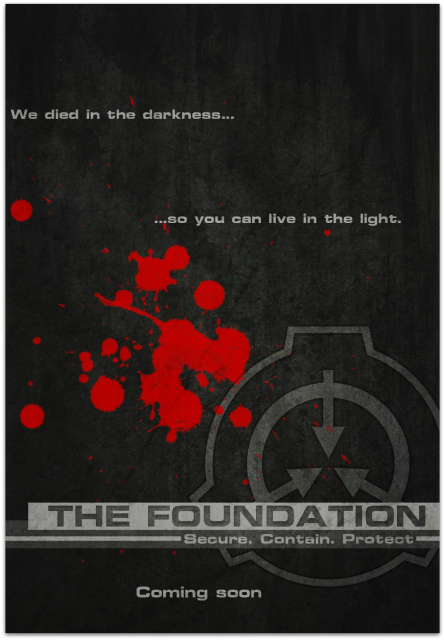 Setting:


Setting, while it can and will actively change, will heavily revolve around the activities and whereabouts of the Foundation and its staff. The Foundation is an all-but-too-human organization with vast but limited power attempting to protect the rest of humanity by containing and studying anomalous objects and entities. They are the last bastion of security in a world where natural laws rapidly break down. There to protect humanity from the things that go bump in the night, from people who wield power beyond mortal understanding. Here to make the world a safer place. However, they are far from white knights, but neither are they villains.

Just as location doesn't matter, neither does time period. This roleplay's universe is flexible and can theoretically function in any era. Modern is of course the best, futuristic can just as easily work with adjustments, and anything from Victorian to Roaring Twenties will make for an interesting and plausible twist as well. This aspect will be decided by myself and whoever is most qualified to be the co-gm on this project.



Plot:


It is crucial that everyone understand this is not a clone of Supernatural, Hellblazer, Grimm, Men In Black, Ghost Busters, or any other similar media. Its more serious and based in a World of the Weird... if anything, you can compare it to the Twilight Zone or X-Files. The focus of the story will surround anomalous locations and objects, and occasionally humanoids and creatures. So while it will have Spirits like Supernatural, Aliens like Men In Black, or Demons like Hellblazer, its a lot more gritty, dark, and horror centered like The Conjuring and/or Insidious. The story will take the form of various case files with players controlling the staff, whether they be a Researcher, Field Agent, Task Force Operative, Site Director, etc... any overarching plot has yet to be determined.



About:


This Interest Check is purely just that. I'm shopping this idea around for the simple reason of seeing who might want to be part of its existence. As of now, I do not intend on putting any effort into creating this roleplay. If enough people want to join and I can find a skilled co-gm, then the construction process will begin. So if anyone likes what they see and would enjoy such a roleplay, let me know via post here.