Kotsune seemed to take kindly to his comment about her being the nicest and Steven wondered for a moment if perhaps she had taken it as a compliment. Either way, he supposed, it didn't matter. She nodded and went of to comfort the frail girl and he went and got a few menus and handed them out to a few people who walked into the bakery. He made sure they were comfortable and looked over at the group wondering who else he would be working with.

Secretly he hoped that Hamada-san would join him, he got along better with him than anyone else. He was walking along the counter back to his classmates he wanted to know who was going where, but as he was walking he noticed Kamiko rushing around holding something.

She was coming towards him and the next thing he knew he felt the cool press of blue berry filling against his stomach. There was a thump and Kamiko was on the ground, she had hurt herself in the fall, he could tell that plain and simple but what mattered to him more was his shirt.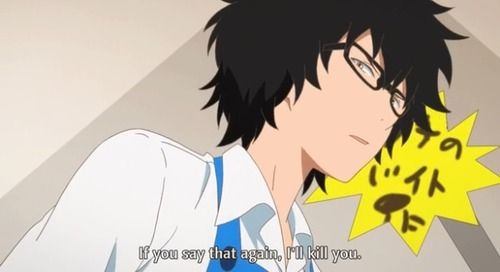 He looked down at her clearly displeased about this and he frowned

"I hope you'll pay for the dry cleaning."

He spoke in a half growl. He didn't bend to see if she was alright and instead he looked at her and said

"Excuse me... I need a sink."

He stepped around her and went to the sink behind the counter and grabbed a cloth and began to dab away at his favourite shirt.

He at her still on the floor and sighed

"Stop your crying and start cleaning up the mess you made."

he wanted to say that she needed to man up but he thought it a bit silly considering her gender.