Miu clung to her elder sisters hand, dried tears glimmer on her cheeks, though her mood had become slightly more positive than before. They had not yet quite gotten out of the village, and Emiko was still afraid they might run into some remaining soldiers, in which case they would have no chance. However, other than the corpses everywhere and the creatures feeding of them... the village truly seemed deserted, dead. Even if the image was a horrible one, Miu wouldn't let it bother her, though. She had the image of how the village had been before the raiding fresh in her mind, and Emiko had the feeling that was how Miu still tried to see it.
"Sis," the little snowy haired girl started in a quiet voice, glancing up at Emiko again, "Sis... will we ever come back here?" she asked, her voice barely audible and Emiko could hear hidden pain and sorrow in it. Just as it was evident in her younger sisters voice, it was evident in her expression and especially in her electric blue eyes. They were like big, sad pools of crystals... so fulled with sorrow it could have reduced even the most rough necked of men to tears.
The elder of the two gulped and gave her younger sisters hand a gentle squeeze before sighing, averting Miu's gaze. "I can't know for sure, Miu..." she said quietly, shaking her head, "maybe... one day. If we do, I guess it will have to be our job to restore the village, no?" she smiled down at her sister weakly and Miu's expression instantly shifted from heartbreakingly sad to simply... well... still sad but a bit less.
"Yes!" Miu agreed with a nod of her head and a small grin tugging the corners of her lips, "then we can make everything as pretty as it was, and plant beautiful flowers eeeeeeveeeeeeerywhere!" she said happily, giggling at the thought ad she hugged Emiko, making them come to a halt once more. "And everyone can be happy, mama and papa too!" the child continued.
Emiko laughed softly, sadly, and gently hugged her sister back, carefully running her fingers through Miu's hair. It sounded wonderful, but she was unsure it that ever would happen. When her sister mentioned their parents, Emiko's expression saddened even worse. She had the feeling Miu didn't quite understand that their parents were gone, they they wouldn't be coming back no matter how hard the two of them tried. It all was gone... and there was nothing they could do about it. She didn't want to make her sister sad now again when she had found a little happiness, so she just smiled weakly and said nothing for quite a while.
"Yes, maybe that is true... maybe not... who knows, little cub?" she asked softly, a warm and soothing, almost motherly tone in her voice. It didn't a all fit the age of her appearance, since it somehow was so... mature. "Now, lets going, shall we? We will need to find something to eat... and a shelter for the night," she said gently as Miu nodded her head.
"Uh-huh!" the child agreed cheerfully, started to skip on slightly ahead and humming happily to herself.
Emiko couldn't help but smile slightly as she followed her sister.
By the time Emiko suddenly heard the noise of a movement not very far away, they had almost reached the exit of the village. Because of their inheriting, white foxes had enhanced senses such as hearing and seeing in the dark- as well as an enhanced nose and reflexes. However, in turn they were fragile, even more so than a human, which often put them at a disadvantage no matter what.
Automatically, Emiko sprinted over to her sister and grasped hold of her shoulder with one hand, so that she would come to a halt, while placing her other hand on the hilt of he sword. Even if she wasn't amazing with a sword, she was good enough to protect Miu, at least for a while, if a battle should ever arise. However, if she could she wished to avoid this as good as possible. She hated fighting and she hated bloodshed. She hated everything having to do with unnecessary violence. In the end, it would bring nothing but despair to anyone.
Emiko pulled her younger sister up to herself, holding her protectively as she scanned the area carefully, he eyes narrowed in thought and her amber eyes almost burning with anticipation. She quickly pulled her sister around the corner of the remains of a house as the sound of footsteps came closer, holding her breath and placing her hand over Miu's mouth so she wouldn't be able to make any sound. Luckily, Miu did not question this and simply silently went with her sister, although she looked ever so slightly confused about what was going on.
Pressing herself against the wall and gesturing for Miu to do the same beside her, she finally let go of her younger sister and waited a moment before glancing around the corner.
It was a man, most likely a soldier of some sort... but he did not look like be belonged to those who had raided the village. Letting out a tiny sigh of relief, Emiko still did not feel comfortable meeting any stranger who did not belong to the fox village. Humans simply were strange beings... and those outside her village were supposed to be even more so. Or, at least that was what she had been thought. If she could trust the words of their village elder or not, she couldn't know for sure.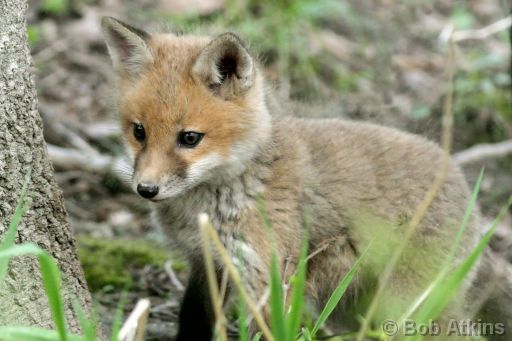 Everything shattered as Miu suddenly squealed in delight and ran out from their hideout. Not far away from the soldier, there was a tiny fox cub stumbling his way along the path. It had been custom to live in harmony with the both the normal foxes and arctic foxes who thrived around the mountain and forest area in which the village was situated in, so it was not usual for the foxes to come down there- some even lived with the families. This seemed to be another survivor of the massacre... but now he was giving them misfortune, or at least that was what Emiko thought as she hurried after her sister.
"Miu, come back!" she said, her voice still soft but somewhat sharper than before. There was no chance the man wouldn't notice them now, but it didn't matter.
Miu blinked and carefully picked the fox cub up, glancing at her sister as she cuddled it. That was just how tame the foxes of the village were. "Look, sis... isn't he adorable?" Miu asked with a small grin.