"It is absurb to divide people into good and bad. People are either charming or tedious."

~ Oscar Wilde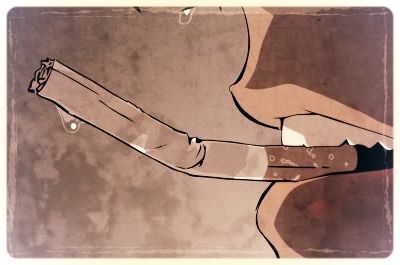 Tucked very comfortably, far far away in one of the blindingly baby blue restrooms of the academy stood the figure of a narrow-hipped spitfire. The spitfire of a boy had arrived early for two reasons: one to poke around on the new pianos before anyone else got to- and then afterwards for another more embarrassing purpose- the purpose of getting prepared. Victor was a clumsy dresser. So far, the German had spent a total of twenty-three minutes fixing his damned uniform, and he hadn't finished yet- the pale-skinned man peered into the mirror before him, this truly was a process to no end. Terribly small hips pressed against the marbled counter while dull green eyes narrowed with a new found annoyance. All the while long careful fingers found their way threaded through the collar of his new uniform, he'd done so well- he was on the very last button. Victor had always been rubbish at fixing his uniforms and he wasn't about to ask for help.

With a soft little grunt of an attempt to fasten thatgoddamedpieceofshit button--- Victor managed to instead pull the button free of it's thread instead. Victor spluttered and a soft "Oh, woops!" was free of his lips in an instant. Before he even had a chance to find the button, Victor heard the soft 'tinktinktink' as the button slithered down the sink to the world of the pipes- never to be seen again.

"Oh dear me." Victor uttered softly, rolling over so that his back was pressed to the counter "Oh dear oh dear me."

"Lost a button on the first day, you sir are a tart." Victor sputtered to his own relfection as though it really did matter- though it really didn't much to him. "S'pose it can't be helped." Victor wet his lips with a quick slick of the tongue and wedged a fresh cigarette between between them- taking care to light it and puff out a few forbidden smoke clouds as he pushed through the exit of the restroom. Nonono~ teachers liked to tell him, oh dear he could hear it now no smoking here sweet little darling Victor. Then he'd always always always answer with a heart-felt "Oh dear me, oh dear so very sorry- won't happen again-" The cigarettte would be thrown aside, only to be replaced with a new one mere moments later.

The white haired teen had his sleeves rolled up to reveal two pale arms as he sauntered a different direction towards the cafe, one of his hands was tucked in the pocket of his school uniform while the other was reached outwards and it traced along the walls as he walked, he moved his fingers in patterns as though he were playing piano notes on the walls. Since Victor's button had broken on his white collared shirt, it was slightly agape at the top to reveal a pale shapely neck. Victor sucked on his cigarette and exhaled his smoke everywhere- his own little mark on the school. Eventually, the white haired beauty found himself in the cafe- a place where a grouping had formed. The long haired youth chose to sit at his own table and cross his legs as plump lips toyed idly with the cigarette he'd probably be scolded at for having soon enough~

All the while Victor's hands were trembling like mad, he attempted to treat the table in front of him as an imaginary piano to stifle his trembling, but it was terribly obvious that he was in a bit of a state the poor fellow. The boy would have never ever admitted it, but--

he was nervous.