---
---
---
---
|
"The continuation of an Era lost... begins Anew..."
|
---
---
Steel black eyes gazed at the glass tube located at the center of the large circular room. It was noticeable that there are a lot of computer, medical, and scientific equipment inside the said place. They were all connected to that tube which assesses, maintains, and observes various conditions. Of course, it was not the tube being monitored. It was about what is inside which many people had taken to call as

"The Queen."

It was a young female still blossoming into an adult with beautiful long green hair. She floated within the liquid known as her sustenance. The said girl was blatantly naked with many wires and connectors attached to her which served to ensure that her vitals was stable as it could be. After all, she was a very important centerpiece of various experiments.

Moreover if anything does happen to her, the owner of those black eyes will not hesitate to shower punishments of the worse to the researchers and scientists that were assigned to her. "Sir, the other subjects had rejected the serum." This was an information which a lone scientist believed needed to be said. His eyes did not falter as he simply released a sigh and approached the glass tube which contained The Queen. He placed a hand on the liquid glass which separates his perception of touch to the feel of her skin. "Keep them confined. I believed Hughes will have a use for them." Upon hearing the answer, the scientist nodded in agreement and then added another information. This time it was connected to the precious subject in front of them.

"The Queen showed positive reaction to the blood of the half-ling." This result brought a smile to his face. It was to be expected truly. After all, the machinations which had been done up to this point was all for this one goal. It was time to finally unravel some of the seams which clouded the one truth of this world. "Inform Dahlia, I want the trash to be decimated." The scientist nodded once more. "Affirmative." Once that was all said, the scientist left his side. As for him, he returned his full attention to the green-haired girl in front of him who was in the state of unconsciousness but actually, she was medically dead as anyone could say. Yet, she was still placed in the state of induced comatose. "It's time. You would not have to sleep ever again."

That was when the intercom within the room echoed with a message directed to him. "Milord, there is a call from the Association." He stepped back from the glass tube and run his fingers through his long ebony black hair. There was indeed a matter which he would need to look at. It was a bit taxing however, it was rather entertaining as well. There were a lot of things which he still needed to finish up. When that was done, it will be the perfect storm. "Time for me to return as a dutiful president." After saying that, he took one final look at The Queen before exiting the room. Unknown to all, the hand of the slumbering green-haired girl ever so delicately moved before becoming still once more. No one noticed, perhaps it would not be long for The Queen to open her eyes once more.
---
---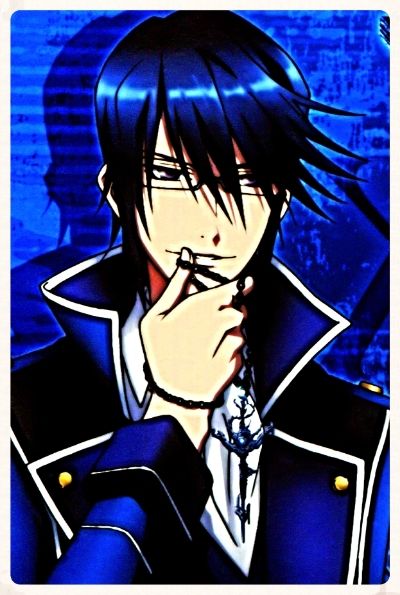 ---
---
|
"Are you ready for this? Just you know, there is no going back."
|
---
---
Rather normal, it was what Hughes could describe the time which had passed by. He had heard about the interaction between the Vampire King and the new transfer student, Anastasia. It was reported to him with such detail by Alice and he was very certain that the white girl was not very pleased. In regards to his notion, he was rather agreeable to what had transpired. The Rosenkreuz Pure-blood was unaware that he was tying a noose around his neck. Well, the Pure-blood must have an idea about the consequences of his action. Thus, it was more fun watching these children decide and act within the center of the chaos. Well, their fates were already predetermined. So even if the struggle, it was futile in every way.

In any case, he would need to look at the papers on his desk as of now. After all, he, the Headmater of Cross Academy had suggested a rather wonderful event. Of course, it was for his dear students to release themselves from the gloomy incidents which had occurred within the grounds. There was the death of Yamazaki and Tachibana. Others may not show they are affected, yet, it could still translate into them with such depressing intentions. As such, he had announced that there will be a School Field Trip. That is why, there were a pile of documents brandished on his table. It was all about the guardianship, itinerary, expenses, accommodations, and so on. These were routine as much as he could say.

Taking one of the documents, Hughes raised an eyebrow at the very typical choice of destination as suggested by the teachers. There were historical landmarks, museums, and the list goes on. Predictable and boring in its entirety. As such, a twinkle could be seen in those obsidian eyes of his hidden behind his glasses. With a pen, he made a few changes to the places to be visited. This would be far more enjoyable for everyone including him as well. Once, he was satisfied. He placed down the document and heard his cellphone rang. Answering it, he was familiar with the voice on the other end. It seemed that a decision has finally made in regards to the

trash

or the

canker sores

of the Contra Mundi. "All right, I will let Dahlia handle the matter with the Malady." There was a brief reply on the other end. He leaned on his chair and had a small smile.

"Tell Ex to come with the rejects. I have the greatest idea for a party." The conversation ended there as he returned his phone back inside his pocket. Entwining his fingers with each other, a rather sadistic yet gentle smile was present on his lips. They were making their move. It made him wonder what kind of reaction those beloved students of his would do now. Oh well, it was not good manner of him to get ahead of himself. After all, they might be disappointing in the end. He did not like to get his hope up. But, it was what makes thing more exciting when his expectations are exceeded. With that thought, he pushed the button to communicate with his secretary outside the door. "Please call Alice Rosenkreuz to my Office, thank you."
---
---

---
---
|
"It feels like this dream has just started."
|
---
---
As usual, Zenith was once more asleep. This time, he was not at the Sanctuary which he had showed to Anastasia. He had avoided going there these past few days. It was better to keep his distance if the human girl was still bent on the idea of being his friend. Furthermore, he was not ignorant of the dangerous resentment that Alice was beginning to show. Women are also troublesome. He was finding that description of Luke as being factual as moments passed by.

"Hey Kid! Wakey-wakey!"

This was the very enthusiastic greeting of the jolly pure-blood who was known mostly by the students as the Campus idol's best friend. Of course, he was known by the prefects as the Vampire King's bodyguard.

Golden eyes were revealed as it met with those iridescent green eyes.

"Spectators are starting to gather. We don't want to cause much trouble now."

Luke stated while looking around the gathering crowd. It was not just compromise of students but also staffs of the school itself. The charm of the Rosenkreuz Pure-blood was truly something. Although, he did find something odd about him sleeping at such a place where people could easily notice him. That is why he could conclude that something had happened. Moreover, he also could tell that Alice's mood was not at the best. Thus, it might be connected to the ladies surrounding this elusive and emotionless pure-blood.

"You have to be somewhere also, right?"

He reminded his charge in a casual yet cheerful tone.

Zenith did not stir from his position as he listened to all what Luke had stated. A few seconds passed by before he stood from his position and dusted his pristine white uniform. He ignored the crowd beginning to surround them and wanted to take a glimpse of his form. Yes, he does need to be somewhere at the moment. He was going to spend some time with Alice once more. It had become a routine ever since she had returned to his side.

"So, you have any idea where we are going for the trip?"

Luke inquired without much ingenious intentions. He simply wanted to make small talk. However, the white pure-blood was not much of a talker or compliant to the idea of having the school body going on a trip during these times. It was dangerous and judging from the reports he received from O, they were going to get worse.



"It would be good for everyone to take a break, you know."

Luke was not insensitive nor is he ignorant of what was happening around him. Actually, he was more attuned to what was happening than most would think about. At the same time, he was well-informed for the reasons why these were all happening. But of course, this was out of his area of concern. As such, he would not do anything not expected of him. Zenith cast a glance towards the gathering crowd and then back to Luke with the usual indifferent facade of his. "I know." That was all been said as he made his way to leave while Luke followed behind. It would appear that his charge has not changed, but he knew well, that was not the case.

As they turned around the corner, Luke noticed two familiar faces as his face brightened to greet them. However the next words which left Zenith's mouth was rather hard to dismiss. "Ms. Fujiwara, I am the one responsible for that mark." It came out of his lips without any hint of dismay, guilt, regret, or any sort of emotions. He was still an emotionless man as he had always been. At the same time, he seemed aware of what the topic of conversation was. Luke looked at the bruised mark around the new transfer student's neck. It was clear it was a hand print and from what was said, Zenith had done it. He stepped a bit forward and tried to dissuade the noticeable tense atmosphere.

"Hello to you two lovely ladies! It's a good day now isn't it?"