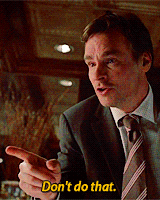 Mathews frown deepened as Aurelia began to cry. As Eleanor began to hug her, Mathew would place a hand on her shoulder. He would rub her shoulder reassuringly as he crouched down to try and get to her eye level.
"Hey! Hey! Listen... We don't know what's happened to anyone who's gone missing yet. They could all just as easily show back up tomorrow- plus you know Abby- she's adventures .. Maybe she just snuck out of her house to try and do a little digging - she could show up in a few hours or something. "
He said in a calm voice.
" Just don't give up hope - alright. Whatever you do.. Don't do that."
As he finished talking, the phone back as his desk began to rang again. With a deep sigh Mathew left Aurelia's side to go answer his phone.
David stood close to Aurelia the whole time - clearly in a bit of a shock as this events unfolds around him. As Mathew walked away, David would start to pat her on the back.
" I'm sure.. Uhh.. She'll be alright. "
He said, clearly just trying to be helpful - but he had no idea to be honest. This was one of the wildest things he'd ever heard of happening - Nothing like this had ever happened in the big city let alone this far away from one.
" If there's anything I do do to help... "