"They enjoy such things."
---
It was another day as always. Aeon was already awake even without the need for an alarm and such. There was nothing noteworthy for him to do as far as he remembers. However, he has never been the kind to oversleep in anything. So, he was up and about. He had actually returned to his apartment right after Brinx had fallen asleep last night. From the very beginning, he has no intention of staying any longer at the Main House than what was necessary. He only did to spend time with his little brother who had just returned overseas. Brinx was full of stories of what he did over there with his mother as the boy was filled with excitement and joy. Truly, that made him happy for his brother. He intends to keep it that way.

But for now, Aeon would need to prepare for the day ahead of him. He entered his bathroom and began to clean himself with a refreshing shower. It took a couple of minutes for him to get done with his morning rituals but nothing as horrid and long as his mother would use to do. He felt annoyed at time, but it was a precious memory. That was when a precise and polite knock echoed through his private quarters. "Aeon-sama. It's Andrew." After stating that, Andrew opened the door and was in a complete attire of what a butler should look like. The male wore a black suit and tie matched with black gloves.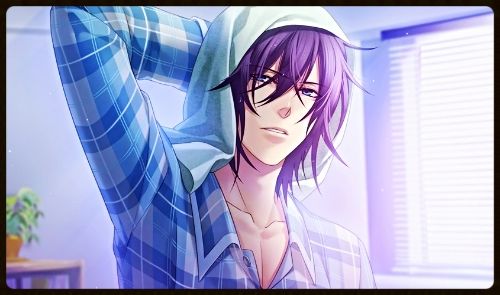 Ah yes... Andrew had come back to being his retainer. It seemed that his peaceful days of spending time on his own at his house would now be impeded by Andrew's arrival. In any case, he exited the bathroom while wearing his chosen sleepwear last night. His hair was undeniably still wet as strands glimmer as it caught the stray lights and stuck closely to his skin. Aeon placed a towel over it, so that he could still dry it. His eyes of mauve reflected that of Andrew who had an adoring smile on his face. Well, it was because his respective Master was truly an awe-inspiring sight even during mornings. "What is it Andrew." This was enough to snap Andrew from his daze as he lightly shook his head sideways and coughed a bit before speaking once more.

"Good morning, Aeon-sama. I have already prepared breakfast." Aeon nodded at this and walked towards his closet. "Aeon-sama! Would you like me to help you change your clothes?" Andrew was about to approach Aeon who immediately looked over his shoulder. His face remained a visage of calmness but those deep purple eyes revealed a cold threat that even an ice berg would bow in awe. There was no need for words as Andrew froze on his spot with chilling fright. He was literally sweating heavily in nervousness and fear. "I'll be waiting for you outside, Aeon-sama." With a bow, Andrew left Aeon on his own once more upon the sound of the door closing. Releasing a sigh at this, Aeon then proceeded to change himself out of his pajamas. This day was starting to be bothersome.

As far as breakfast goes, Aeon could not say anything less of Andrew's culinary skills. The man has a talent for such. "Aeon-sama. I would like to inform you that Akihiko-sama wishes for you to take a look at this." Those mauve eyes cast their attention to the neatly compiled documents covered by a folder. He was already done with his meal as he stood from his chair and took the handed files. "He requires you to be done with the reviews before the engagement party." The same as always, his Father has no sense of time or sense of intricacy when it comes to demands. There was no need for him to answer as it is already implied that he had never failed to finish ahead of his deadlines.

Taking his position at the couch of the living room, he began to skim through the files. It seemed to be another company being bought by the Shirokami. Somehow, he wondered when his Father would be satisfied, but that was ultimately a useless question. Focusing himself on the task at hand, he does not see anything wrong or something which should be looked out for. That was when his phone rang. He placed down the documents on the coffee table as he answered it without taking a moment to look at LCD to know who called. "Hello. Aeon, speaking." His eyes softened a bit as the familiar voice was on the other line. Andrew noticed this and has a small smile on his face. There were very very very few people who could make his Master's expression soften like that. It is why he has a good idea who it could be.

"I understand. I will pick you up then." There was another response as Aeon had a momentary pause. "If that is what you want, I will meet you at the Loyola Square by the fountain as requested. 10 o'clock."His eyes went towards the clock hanging on the nearby wall to ensure that there was still time for him. "I will come. Be careful. Goodbye" After that, he kept his phone and stood from his seat. "Andrew, I will be leaving." Andrew perked up from this. "Shall I prepare the car?" Aeon shook his head at this. "No. I will be commuting for today." Those words shocked Andrew to petrification. His Master was going to use public transportation that was unacceptable! He ran after Aeon and spoke his side. "That can't be Aeon-sama! You--" Unable to continue his words, it was because Aeon had placed a piece of stick note paper on his mouth with the word 'Shut Up'

Just like that, Aeon left the comforts of his place. As for work, there was still enough time and he already has the grasp of the important facts. Speaking of which, this was different for him. His weekends were usually limited to him inside the house and work. So, this would be a first for him, especially with going out for a date.