---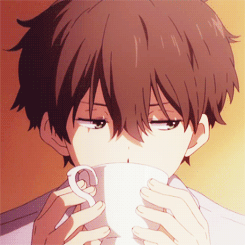 ╔
╗
╚
╝
---
---
After Natsuki had taken a nap for about 15 minutes, Kazuhiko-sensei stepped in and began the Classical Literature subject of the day. He did know that his their sensei had stepped into the room already, but still laid his face up against his desk and stayed in a half-asleep half-awaken state like that for the rest of 55 minutes long. Well, Natsuki was being called to continue on where the teacher was in the textbook for a couple of times, but as usual, he managed to pick it up. Perhaps his classmates had pretty much gotten used to it so they didn't really surprise like they were at first.

He also pays attention to his kouhai, Satoshi. Although many people would say that the other boy is quite a trouble-makers himself and keep hanging out with some shady guys around the town, Natsuki found him to be... quite interesting. And of course, despite how much he doesn't look like it, Natsuki is still an observant individual after all, so Natsuki did aware of the fact that Satoshi is quite conscious of him. He couldn't find it in his heart to fell in love or something like that any time soon, but he doesn't want to hurt Satoshi either, so the best would be to left things as the way they are.

And that ends the Classical Literature period. Though didn't really pay attention to what Kazuhiko-sensei was saying, he still managed to write out at least 8 pages full of notes of some haiku poems they've just learned. Most of the time Natsuki spent at the library isn't for show though so he didn't have to worry as much. He can wrote 10 pages long about the biography of Matsuo Basho if he has enough willingness to spend his energy on it.

So, Natsuki strolled along the hallway to another classroom where his World History period will take place. He was glad that he can sleep all the way since Hazuki shares this period with him. That's an advantage of having a best friend. Honekawa-sensei isn't the best lecturer out there either so you can get the idea. Moreover, it's not like that he's really interested in learning about World War II today so taking a nap would be the best option he could possibly think of, isn't he?

Nothing much really happened during the Advance Writing period though. Natsuki just wrote for about 10 pages and get on with his unfinished nap. Mizuhara-sensei didn't really pay attention to him like the previous teachers though and he was grateful for that. With that being said, the first half of the day of Natsuki went on peacefully, just like any other days.

After finishing the previous period, Natsuki calmly made his way towards the Cafeteria. He saw Satoshi was writing while eating up his lunch and it seems that he was quite concentrate on what he was doing so Natsuki thinks it was best not to interrupt him. He grabbed a tray, went to pick some food for himself and went to a rather hidden table in the corner and finish it up while reading a book he's just lent from the library. There's still quite some while until the piano lesson in the evening so Natsuki can take his time.