---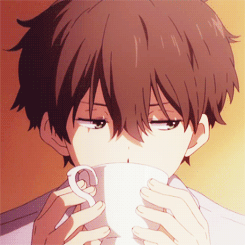 ╔
╗
"This life is ever-changing, but for me, I'll add an 'n'."
[
Ambiguous | GARNiDELiA
]
Dɪᴀʟᴏɢᴜᴇ Cᴏʟᴏʀ ✦ #43CD80 || Tʜᴏᴜɢʜᴛ Cᴏʟᴏʀ ✧

#A8C5A8
╚
╝
---
---
Natsuki was sitting quietly and gobbled down his lunch quietly and peacefully while reading his book. Apparently it was quite gripping as he was seemingly was quite absorbed into it. But in fact, he's secretly thinking about his plans for a whole week. Though he might not look like it, he follows his schedules quite strictly. If it wasn't for his laziness then Natsuki can actually be quite responsible with his life. But what do you know, ol' habits never gonna change that easily, especially when Natsuki isn't going to have any dramatic event in his life for now.

Somehow, his train of thoughts reverted back to his family. It's also been quite a while since the last time he met his parents or Sorata, his oniisan. Well, aside from a phone call once every month and Sorata's text messages every week, Natsuki didn't really get in touch with them much. And he was almost certain that they'll also feel the same because they're going to think that he's capable of taking care of themselves. Well, with Natsuki, whether if he's alone or not doesn't concern him much. He just wanted to live the way he wanted and that's it. He should remember to go to the bank and get the money for the expenses this month his father sent.

Turning his eyes off his book for a moment, Natsuki gazed up at Satoshi, who was sitting a few tables away from his own. It seemed that the boy was having a rather pleasant conversation with his friends. Though whatever mischief they are planning is totally beyond him.

Still, you got to approach a person long enough to understand the truth behind their behaviors, and unlike the two shady guys, Satoshi isn't bad. At least, that is what his observing efforts told him. He doesn't have many friends though, so it's kind of a habit of him to secretly keeping an eye on them.



"Nat-su-ki-chan ~"

A cheeky voice appeared from nowhere before Natsuki felt that his back was hit by a rather violent pat. Without even turning back to look, Natsuki sighed, knowing clearly that only one person would be doing that to him. As the other boy sat down next to him and clung his arm around Natsuki's neck.



"What? And stop adding "-chan" to my name."

Natsuki asked coldly to the blonde boy. The latter pouted as he poked his best friend's cheek.

"Stop being so meanie. You're gonna get old like a geezer soon if you keep being like that."





"Whatever. It's not like that I care much, am I not?"

Natsuki turned his attention back to his book.



"Anyway, I heard that after the lunch break you're going to have Basic Math instead, and you'll have Piano the next period since Sensei is having some business. Don't go to the wrong class, kay?"

Hazuki winked.



"Is that so? Thanks then."

Natsuki exhaled a breath before closing his book. Showing gratitude isn't very much of his strong points though, and fact that he was brutally honest couldn't help it.

And then, the bell rage. Both Hazuki and Natsuki went to their respective classes. Natsuki entered room 317 and went to his seat which is right beside Satoshi. Giving his kouhai a quick greet, Natsuki then placed his chin on his head and gazed out of the windows, waiting for their Sensei to come.