---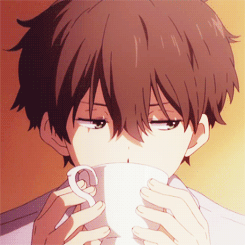 ╔
╗
"Was it really necessary to be all over the place?"
[
Ambiguous | GARNiDELiA
]
Dɪᴀʟᴏɢᴜᴇ Cᴏʟᴏʀ ✦ #43CD80 || Tʜᴏᴜɢʜᴛ Cᴏʟᴏʀ ✧

#A8C5A8
╚
╝
---
---
Sitting next to Satoshi, Natsuki sit and waited patiently for his teacher to come. Honestly, Math has never been his strong points he could almost be convinced that it is even more boring than History with the ranting of the teachers. But his whole schedules doesn't have any natural science subjects so Natsuki had to take up one, just to prevent any unnecessary complaints for the teachers. Just like with the other subjects Natsuki has had up til now today, the best thing to do is probably laying his head against his arms on his desk and enjoy his nap until the next period come.

Inoue-sensei entered the classroom and everybody stands up to greet him. As soon as he allows everyone to sit down and began his never-ending lullabies about equations and trigonometry. Natsuki could felt his eyelids heavier than truck. He almost fell asleep right away but try to refrain from doing so for at least 10 minutes for now, as the Sensei will finished with all the explaining by then. The rest of the period would be used for doing exercises and stuffs from all the things he had just taught them. And this is where Natsuki's 'special ability' to shine.

Fortunately for him, and probably the rest of the class too, Inoue-sensei got some business to take care of by the last 20 minutes and their class turned into a study hall. He let out a quiet sigh of relief and fell his head in his arms again for a long, uninterrupted nap until the Piano period.

But before that, Natsuki couldn't help but overheard the conversation between the two boys sitting next to him, which are Satoshi and what-his-name, Ryou something? And although they didn't directly state, Natsuki knows that he's a topic of their conversation. But he already said his points of view about this matter already, didn't he?

Within the last minutes of the period, the Sensei returned and nagged about how noisy the class was during his short absence. He went on teaching and the Basic Mathematics period finally ended. When half of the class poured out of the class, Natsuki woke up and stretched his arms. He shoved his belongings into his bag and walked out of the classroom, it seems that Satoshi had gone ahead of him already.

Without disdain, Natsuki quietly made his way to the music room and avoid bumping on anyone. Now all he wanted is to immerse himself in the beautiful piano music and get on with his remaining classes until 6:00 PM, then he can get back home. Quite an uneventful day, isn't it?