---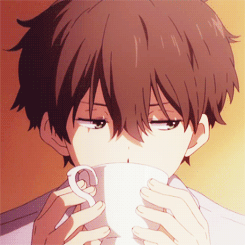 ╔
╗
"Everyday is just the same. Life is good."
[
Ambiguous | GARNiDELiA
]
Dɪᴀʟᴏɢᴜᴇ Cᴏʟᴏʀ ✦ #43CD80 || Tʜᴏᴜɢʜᴛ Cᴏʟᴏʀ ✧

#A8C5A8
╚
╝
---
---
Upon entering the Music Room, Natsuki quickly found himself sitting at a respective piano somewhere near the corner of the room. Honestly, this is probably the only subject of the day that has the capability to keep him staying wide awake for the whole 50 minutes. Calling it the subject he's really interested in all the subjects he had taken within this year wasn't wrong after all. Even now, Natsuki doesn't even know how will his future turn out just yet, so it's better to focus on what he did the best, right?

More and more people crowded into the room and sat in their own pianos while Natsuki was taking the music sheet which Mikazuki-sensei gave them last week. Well, he's been practicing everyday when he isn't sleeping or lying on his bed to read manga. It was more relaxing and less energy-consuming than having to run around doing some silly errands or doing some sorts of sports. The sensation as ten of his fingers placing and pressed against the boards in a perfect pattern is somewhat 'heavenly', or at least for Natsuki.

The teacher went into the class as everyone standing up to greet her.

"Good evening, class."

She said as she walked to the big piano in the front, "So, today we're going to keep on practicing the song Inochi no Namae. I believe everyone has been practicing well at home too, so today, who can volunteer to make an example for everyone? I will give you extra marks in the upcoming test."

While everybody seemed to be hesitating, Natsuki sighed and lazily raised his arm.

"I'll play it, Sensei."

All the attention then turned to him and it seemed that those who knows of his apathy were quite surprised and started to whispering amongst themselves.

"Yes, please come forward, Toshiage-san."

The sensei said to him.

Quietly standing up and walked to the grand piano, Natsuki sat down, exhaled a soft breath and began to play the piece of music. The melody from the instrument echoed throughout them room as everyone is seemingly watching him play attentively. Although Natsuki did make some mistakes sometimes, overall, he played the piece well. As the song finished, everyone was amazed that the usual lazy-ass can play the song so well and gives quite a loud applause.

After his little performance, Natsuki then stood up and went back to his seat, totally didn't care about all the fascinated looks the other kids gave him. And with that being done, the Piano subject went on rather peacefully without anything more than a few comments. Natsuki then proceeded with Intermediate English, he isn't very confident that he's a linguist at heart, and he could never fix that 'l' and 'r' pronunciation, but he didn't have much problems with it either.

When English is also done, he's secretly relieved that only two more subjects and he'll be done for the day, though Materialist Philosophy didn't go on as quietly as the other subjects in the day.

Luckily that Hazuki also shares this same class with Natsuki so he can sleep all the way and borrow his best friend's notebook later. Kanzaki-sensei didn't pay much attention to him either so he was secretly grateful. But just as when the period had went on half-way, a nasty sound of a window shattering boomed, thus irritatingly waking him up from his slumber.

Grumpily gazing up from his desk to see whatever the sound was, he saw that it was a baseball had broken the most left window near where the teacher was standing and landed next to him. Everyone was surprised at the sudden sound as moments later, the Captain of the baseball team headed into the room. While he didn't interest Natsuki, the presence of Satoshi did. He watched as both of them apologized to the teacher while picking up the ball and cleaning up the shattered pieces of the window before leaving, but not before getting a few scold from the teacher.



"Hey. Isn't that boy the one you usually talk to? Quite a troublemaker, isn't he?"

Hazuki poked him and asked with his cheeky voice.



"Well, yeah. Though he isn't that much of a troublemaker despite hanging out with those shady guys, so no worries. If that's all then I'll continue with my golden nap."

Natsuki said before digging his head into his arms again. Now all he wanted is that all of his remaining classes finish quickly so that he can enjoy a nice, warm bowl of ramen on the way home and sleep his ass off until the first light of dawn.