---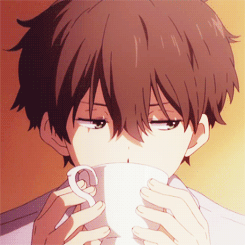 ╔
╗
"Now that everything's finished, I wanna go home."
[
Ambiguous | GARNiDELiA
]
Dɪᴀʟᴏɢᴜᴇ Cᴏʟᴏʀ ✦ #43CD80 || Tʜᴏᴜɢʜᴛ Cᴏʟᴏʀ ✧

#A8C5A8
╚
╝
---
---
After the little incident caused by Satoshi and his baseball team, there didn't seem to be anymore surprising events that has happened and interrupted Natsuki from his golden nap. Well, actually, that was the first time in quite some time that he was woken up by something else rather than the teachers' endless complaints. After the Materialist Philosophy period is finished, Natsuki packed up his things again and made his way to room 302, where the last period of the day which is Advanced Geography takes place. Luckily this period isn't as entirely as bored like some of the first periods he took and it was interesting enough to keep Natsuki staying wake for a short while.

And then, another 55 minutes passed in flash.

"...so as you all can see, The highest point in the Japanese Alps is Mount Kita at 3,193 meters. The highest point in our country is Mt. Fuji, a volcano dormant since 1707 that rises to 3,776 meters above sea level in Shizuoka Prefecture. On the Sea of Japan side are plateaus and low mountain districts, with altitudes of 500 to 1,500 meters."

Ichibana-sensei explained the lesson as the school bell rang, indicates the end of the lesson.

"We'll stop here for today. Please remember to revise your lesson from page 45 to page 47. Class dismissed."



After the whole class greeted the teacher, he went out of the classroom. Natsuki then yawned as he stretched his arms while put the rest of his stuffs into his bag. He's finally finished for the day. Making his way out of the classroom, he went straight to the school's entrance, where a certain of blonde boy was waiting for him.



"Yo ~ Natsuki-chan ~"

Hazuki waved for his senpai as Natsuki slowly walked up to him.



"I'm here, stop making a scene like that already. You don't have to wave for me as if I've just walked out from an airport like that."

Natsuki lazily scratches the back of his head while remark,

"Anyway, in the mood for some ramen today? I don't feel like cooking today. My treat this time."





"Yay, you're the best, senpai ~"

Hazuki cheerfully said while attempting to give Natsuki an embrace, only to be push away by the latter in a rather cold manner as both of them headed for the ramen shop they usually hang out at.

Sitting on a bench at the counter of the shop, Natsuki ordered a medium-sized bowl while Hazuki went all the way and call a large-sized bowl. When the bowls come up, both of them clasped their hands and said "Itadakimasu" before digging in themselves. While focusing on finishing their meals, they have some idle chats (though like most of the time, the one who did all the talking was Hazuki). It was truly a pleasant feeling that you're able to get something warm into your stomach after a long afternoon like that.

As promised, Natsuki paid for both his bowl and Hazuki's. They accompanied each other for a short distance before parting into different directions to their homes. Upon arriving back in his apartment, Natsuki grabbed some clothes and took a quick bath, then fell down on his own bed. Placing his arm against his forehead, he let out a sigh of relief. Since he pretty much slept all the way back at school, he didn't in the mood for another sleep so he grabbed the remote and turned on the TV to find if there's something interesting.

Though for some reasons, his thoughts suddenly turned to Satoshi again. He's said many times already, but he knows that the guy aren't nearly as bad as those guys he usually hanging out with. Though this might be just a quick assumption from what he observed, Natsuki didn't think that the shady guys did genuinely care for Satoshi. The first time he and the younger boy met is a few years ago, when Satoshi got beaten up and Natsuki was just happened to come across with the boy. And yeah, because his helpful side suddenly defeated his laziness, so he took Satoshi back and patched the boy up. And they've known each other since then, though they aren't technically really closed.