---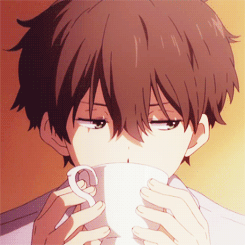 ╔
╗
"I'd like to say that I didn't care about anything in the least, but I don't fancy lying."
[
Ambiguous | GARNiDELiA
]
Dɪᴀʟᴏɢᴜᴇ Cᴏʟᴏʀ ✦ #43CD80 || Tʜᴏᴜɢʜᴛ Cᴏʟᴏʀ ✧

#A8C5A8
╚
╝
---
---
After constantly switching between the channels by his remotes, Natsuki could only yawned and yawned every now and then in boredom since there isn't anything going on the TV rather than a couple of music shows and a few animes that are showing some new episodes, but Natsuki didn't interest in them in the least. So he turned off the TV and grabbed a novel from his bookcase and re-read once again. Honestly, he's been reading his whole bookcase for hundreds of times already, but what can a lazy-ass do to keep himself amusing?

As he was absorbed into the book, he noticed that it's starting to rain outside. Though as much as he didn't want to flinch from his bed, he didn't want to get wet by the rain that can blew in through his window so he stood up and went to close it and continued with his reading. Natsuki focused into the book so much that he didn't really know how long has it been since he started to. But the moment when he's finished is also when the rain stopped.

Sitting up and stretched his arms, Natsuki went to put the book back to where it was. Looking at the wall separate his room and Satoshi's room in front of him, he secretly wondered what would the younger boy would usually do in times like this. Even though they live next-door to each other, they didn't often get to see each other much. There were times that Natsuki did exchange a few words with Satoshi when both of them are standing outside of their balcony to get some fresh air and clearing their thoughts.

Looking at his clock, Natsuki decided that it's almost time to be lying down now, but it didn't hurt getting a nice breath of fresh air first, did it? So he made his way out to the balcony. Though what he didn't expect of what he'd found when he walked out there.

The moment he opened the door to the balcony, the fresh, clearing scent after the downpour entangles within the air, giving him a rather calm and relaxed feeling. Just as he casts his gaze to the balcony next to him, he found out that Satoshi was laying his back against the metal bars and sleeping. From the look of it, it seems that the boy had just stood under the rain and soaked himself.

Did he really want to catch a cold that bad? Natsuki asks himself. He'll totally wake the boy up if it was someone else, whether they're close or not, he still sees the younger boy as a friend, so that's not something Natsuki would do. Geez... Sometimes he did feel weird himself that his caring side can get in the way in the most unexpected of moments. But he can't denied that helping others is a pleasant thing to do.

Since the balconies are just inches separated from each other, climbing through it is something even Natsuki can do. When he's in the other boy's balcony, he gently hold the boy up onto his back and carried him to his own bed. The distance between the balcony and the bedroom didn't seem to be very far though. Laying Satoshi gently on the bed, he quietly put the blanket on top of the boy. He knows that he should help the boy to dry up first, but the last thing he wanted to right now is for him to wake up from his peaceful slumber and both of them engage in a rather awkward situation.

He then silently turned off the light and retreated back to his apartment. Does he suppose to feel happy and contented that he'd managed to overcome his apathy to help the boy next-door? Nah. All he wanted now is a nice sleep. He doesn't want to look utterly gloomy when Hazuki barged into his house first thing in the morning.