---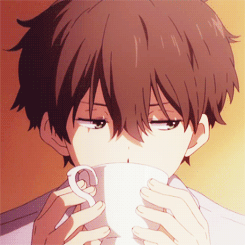 ╔
╗
"What if one day tomorrow doesn't come?"
[
Ambiguous | GARNiDELiA
]
Dɪᴀʟᴏɢᴜᴇ Cᴏʟᴏʀ ✦ #43CD80 || Tʜᴏᴜɢʜᴛ Cᴏʟᴏʀ ✧

#A8C5A8
╚
╝
---
---
Pretty much like yesterday, Natsuki will probably crawled deep into his blanket and sleep like a polar bear for the rest of his day again if he wasn't being woken up in a very irritating fashion by Hazuki again. Now lying with his head on the floor while the rest of his body still on the bed, he sighed. And like every other days, he asked himself if one day the first light of dawn didn't come, then would he be able to sleep to his heart's content? But he figured that he should be getting up, knowing that when he's already in a classroom, all he would do is to crawled his head into his arms and taking golden nap, anyway.

While he gone to the bathroom and do personal hygiene (mostly to comb his messy hair down), Hazuki was making some omelette and bacon in the kitchen. The appealing scent really did awake his senses, plus yesterday the bowl of ramen wasn't really satisfying, so he was a little bit starving by now. So he tried to do whatever he was doing faster. Upon going to the kitchen, he saw Hazuki was wearing a pink and fluffy apron while putting the food into two dishes.



"I've been wondering, where did you get that apron anyway?"

Natsuki asked in a rather uninterested manner. Not that he really care but he figure he should say something to break the silence.



"Well, my sister bought it. I have to cook for her all the time, remember?"

Hazuki chuckled,

"If you asked, it means you must really like it, huh? Want me to play 'naked apron' tomorrow, eh?"





"I'll pass, thank you very much. I don't want to be blinded first thing in the morning."

Natsuki replied bluntly before sitting himself down and begin to eat away the meal. They both exchange some pleasant conversations as the dishes were eaten away. After finishing, he took his bag and went out of his apartment first, while Hazuki washed the dishes. Though just as he got out, he met with Satoshi, who's just happened to walk out from the next-door apartment at the same time.

When the younger boy tried to say something in an apologetic manner, with his face visibly red. Though before Natsuki could respond, he saw that the two shady friends of Satoshi just appeared from behind as they gave Natsuki a rather questioning glare. Watching as the three of them went away, Natsuki sighed as he scratched the back of his head. Luckily that Satoshi didn't seem to realize that it was Natsuki who carried him into his bed last night.



"Oi, Natsuki-chan."

Hazuki has just got out of the apartment when the three young boys walked away,

"Ooh, I didn't realize he lives next-door to you. That must be really fate or something, right? Say, I think you and he will make quite a couple, why don't you-"

Without even letting the blonde boy finishing his sentence, Natsuki knocked him hard on his head,

"Ow ~ You meanie."





"Let's just go already. We're getting late."

Natsuki said coldly as the two of them made their way to Chishiki Academy. Upon entering the classroom, he raised his hand to greet Satoshi before sitting at his seat. Today's lesson of waka poems aren't very interesting either, but what do you know?