---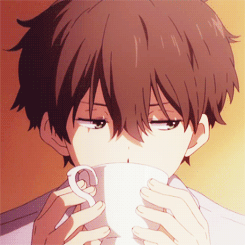 ╔
╗
"Sometimes I wonder, what really is there to like about me?"
[
Ambiguous | GARNiDELiA
]
Dɪᴀʟᴏɢᴜᴇ Cᴏʟᴏʀ ✦ #43CD80 || Tʜᴏᴜɢʜᴛ Cᴏʟᴏʀ ✧

#A8C5A8
╚
╝
---
---
Apparently today's lesson in Classical Literature isn't enough to keep Satoshi concentrated enough to listen to anything the Teacher got to lecture them about. For some reason, somehow it feels incredibly boring this morning. This might be due to the fact that Kazuhiko-sensei is probably having some problems with her love-life right now. Everyone knows all too well about it. Even some of the most attentive of students in the class have to yawn from time to time, what could possibly stopped Natsuki from falling asleep right away? Natsuki has a little bit of interest for Kakinomoto no Hitomaro's and Ono no Komachi's works for a while, but he'll probably has to rethink about that again.

But finally, the lesson finished as all the students got out of the classroom. Natsuki was awoken thanks to the bell ringing. He sat himself up straight properly before stretching and collected his stuff in a rather easy and calm manner. Before he knows it, pretty much only he and Satoshi was the ones that haven't walked out yet.

Then, Satoshi walked to Natsuki as he looked up to him, the younger boy apologized to him for just turned his back and went with his friends without saying anything much, but Natsuki just shook his head with his usual bored expression,

"It's no big deal. And there's nothing to be sorry about so you don't have to."

He can clearly noticed the fact that his kouhai was blushing,

"You better go to your next class soon before it started. See you again in Advanced Writing then."



As Satoshi made his way out first, Natsuki let out a sigh before standing up himself and made his way towards Room 315, where his World History class will take place. Luckily Honekawa-sensei isn't as boring as Kazuhiko-sensei earlier so he could probably give it a try to actually staying awake for a whole period for once. Well, it's not like the Hundred Years War between England and French is very interesting.

And the lesson also passed in a flash. Natsuki then packed his stuffs again and moved to his next classroom. It was amazing that he could able to find it in his heart to be on the move after every period like that. Making his way to the room where Advanced Writing is taking place, Natsuki tried not to bump into anyone when walking in this crowd of students. Upon entering the class, he sat down at his seat and waited for the Sensei to come.

Natsuki couldn't possibly take a nap now since they have to compose a haiku poem based on the instructions of the Sensei. It was really no big deal with Natsuki though. While they were busying with their job, he did turn his back to look at Satoshi at times, wondering what the boy got on his mind right now. But like the first two classes, time really did fly and it's lunch break time already. As he packed up, he remembered that Satoshi's friends probably aren't here. So something came up in his mind, partly because he was a bit curious to see how the boy would react.

After packing his stuffs, Natsuki went to Satoshi's seat,

"Hey, Satoshi-kun. I think your friends aren't here today so do you want to join me for lunch? I'm sure Hazuki wouldn't mind if I brought along a friend or two."