---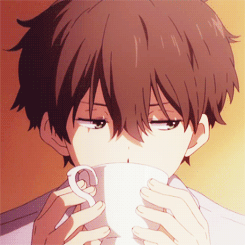 ╔
╗
"Somehow, it... feels nice this way"
[
Ambiguous | GARNiDELiA
]
Dɪᴀʟᴏɢᴜᴇ Cᴏʟᴏʀ ✦ #43CD80 || Tʜᴏᴜɢʜᴛ Cᴏʟᴏʀ ✧

#A8C5A8
╚
╝
---
---
Looking at his junior's reaction to his offer, Natsuki couldn't help but feeling that it was a bit amusing, even for Satoshi. And it makes him smile, albeit only slightly, but it is rare enough to make anyone surprised at the sight.

"Sure, let's go to the cafeteria then. Hazuki is probably waiting for me there. He's a rather energetic gal so it's understandable to fell a overwhelmed when you met him though."

Natsuki said as they both then made their ways towards the Cafeteria. Well, it's certainly a total different feeling converse with someone else other than Hazuki.

As soon as they've reached the entrance of the canteen, Hazuki jumped out from nowhere and wrapped his arm around Natsuki's neck,

"Yo ~ Natsuki-chan. Did you know that I really miss you ~"

He said with his usual cheeky voice again while attempted to kiss Natsuki, but his lips were quickly blocked off by Natsuki's palm,

"Seriously, how shameless could you get?" Natsuki said while sighing before throwing his face towards Satoshi, "We're having another company today so stop acting like that. I have my own dignity, you know."





"Heh heh, sorry."

Hazuki smiled mischievously while knocking his head and stick his tongue out before running up to Satoshi,

"Hey there, you must be Satoshi-kun, right? I couldn't really believe it when I heard that the usual boring and unsociable Natsuki-chan really did talk to someone else in this world. Anyway, nice to meet you, I'm Hazuki."

The blonde boy seemed to rant almost endlessly upon meeting with Satoshi.

They all went to pick up a tray for their own and taking some of the foods of their liking from the counter before sitting down at a table nearby. As they ate away their lunch, the conversation seemed to be going on pleasantly. Most of the conversation's topics were about literature and Natsuki's become a little more enthusiast when talking over this with someone whom he's acquainted with. Maybe it's not so bad doing this once every while... He thought to himself.

And the break finished as the bell rang again. Satoshi then asked again if he could join them again tomorrow, as apparently his friends are going to be suspended for quite some while,

"Well, I certainly wouldn't mind and I believe Natsuki-chan here wouldn't too, right?"

Hazuki said with a bright smile as he turned to his best friend.

"Yeah, of course I wouldn't. You can join me anytime you want. And you don't have to be overly formal. I wouldn't even mind if you visit my apartment sometimes."



Natsuki then stood up and made his way towards the Music Room,

"I'm going first. See you guys later."

He told the other two boys before headed to where his Piano lesson is going to take place. As Hazuki and Satoshi left the cafeteria, the blond boy sudden leaned his head towards Satoshi,

"Say, I know that asking this was a little sudden, but you like Natsuki-chan, don't you? I can totally see it written all over your face, hehe."

He said with yet another mischievous grin.