---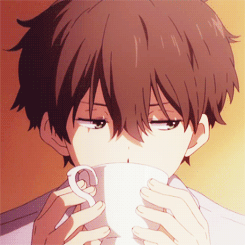 ╔
╗
"Everyone has to change someday... probably."
[
Ambiguous | GARNiDELiA
]
Dɪᴀʟᴏɢᴜᴇ Cᴏʟᴏʀ ✦ #43CD80 || Tʜᴏᴜɢʜᴛ Cᴏʟᴏʀ ✧

#A8C5A8
╚
╝
---
---
Hazuki laughed as Satoshi groaned and slapped his forehead. He nodded to what the boy got to said,

"Well, a few girls who once tried to hit on him also reacted the same too. Not that I'm comparing you to them, heh. But hey, Natsuki-chan never tell me anything whenever I asked if he got something on his mind but I've been friends with him long enough to know that he's pretty observant despite being absent-minded all the time."



The blond boy blinked a bit and then shrugged upon hearing the latter statement,

"Yeah, I can see where you're going. But rest assure, despite trying to be cold alike, Natsuki-chan can actually be cute sometimes. He isn't that cold-hearted to just bluntly rejected someone who came for him."

Hazuki then smiled brightly to Satoshi again,

"But you really shouldn't feel so down. I think that if you're actually trying to hit on him, perhaps he'll fall for you, who knows? You're actually someone else rather than me I know that he's talking to that casually. Well, if you got anything you wanna know about him then just find me."

Hazuki blinked as they parted way when Satoshi reached his class.

Meanwhile, Natsuki's Piano class as today they got to learn a new song. Well, Mikazuki-sensei really did know how to find some good pieces of music for her classes to learn. As the teacher played as example for the whole class. Playing by ear was something Natsuki was pretty good at, so he's managed to scrap most of the basic notes already. As the teacher handed the sheet for the class, Natsuki focused on nothing but practicing the song. It was quite short, actually, so there's not too much of a problem.

The class soon ended as Natsuki made his way towards his next classroom. And as always, he didn't seem to be very interested in it either. However, what was odd is that he didn't see Satoshi sitting next to him. It felt kinda empty as the two seats beside him were deserted. He secretly wondered what's happened with the younger boy, but went on with his nap, anyway.