---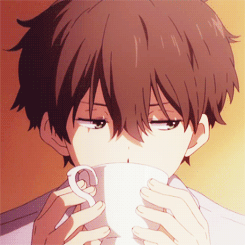 ╔
╗
"It's never a good idea to rush things, after all."
[
Ambiguous | GARNiDELiA
]
Dɪᴀʟᴏɢᴜᴇ Cᴏʟᴏʀ ✦ #43CD80 || Tʜᴏᴜɢʜᴛ Cᴏʟᴏʀ ✧

#A8C5A8
╚
╝
---
---
Natsuki went on with his nap peacefully without much interruption. Well, if you didn't consider a couple of times when Inoue-sensei call him to answer a question or two, but as usual, he usually pretty much being able to answered them although he didn't pay much attention to what she was saying. The Sensei could only sighed though apparently she's pretty as surprised as the students in the class most of the time. Well, Natsuki really has some tricks up to his sleeve after all...

So, Natsuki just got on with his nap until the lesson is over. If there really is a sleeping contest, Natsuki would probably the winner already and no one could ever possibly break his record. Life is way too fast, so what else could he possibly do rather than wandering in his own dreamworld where he doesn't have to think much about anything? At least, that's always his motto for as long as he could remember now. There weren't that many subjects that really interested Natsuki anyway. If possible, he'll take only Piano in his schedule. But he still need a certificate when he graduated, so what else could he possibly do?

Luckily, the Math lesson quickly passed. Natsuki has noticed the bell ringing already, but he didn't find it in his heart to stand up at all. And it seemed he's going to stay like that for quite a while later, if Satoshi didn't poke him with a pencil while telling him to be up as the lesson is finished already.

"Oh, Satoshi-kun? You weren't here earlier so I was wondering where have you been."

Natsuki stretched his arms with a yawn and scratched the back of his head,

"Anyway, thanks for calling me up. See you later then."



With that said, Natsuki took his bag and made his way to the next room. Sometimes he did wonder if anything interesting could really happen in these boring, monotonous day. But Natsuki couldn't care less. He sat in Room 301 and waited for Kuroha-sensei to turn up. When the class begins, Natsuki couldn't help but gazing out of the window for a couple of minutes, wondering which directions would he follow in the future. It all seems to be a bit clueless to him, although he's only a few years away from graduating. Well, he certainly not going back to the busy cities and work days and nights in a company like his brother. He's gotten used to the peaceful life here in Hikarishi and he's not going to shock himself by going back to busy cities.

And the lesson also finished as time keeps flowing restlessly. He still got two periods ahead of him but they shouldn't be too long for now if he takes another few naps. Well, he still hasn't forgotten how they were interrupted during Materialist Philosophy yesterday, but the same thing couldn't possibly happen twice in just two days, right?