---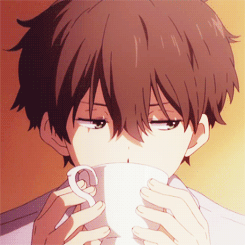 ╔
╗
"I just don't want to get headaches from overthinking, that's all."
[
Ambiguous | GARNiDELiA
]
Dɪᴀʟᴏɢᴜᴇ Cᴏʟᴏʀ ✦ #43CD80 || Tʜᴏᴜɢʜᴛ Cᴏʟᴏʀ ✧

#A8C5A8
╚
╝
---
---
And, just like the previous periods, the Materialist Philosophy seemed to pass in a flash. And as usual, Natsuki didn't find the ideals of Karl Marx or Frederick Engels to be interesting enough to keep him from yawning or almost dozing off a couple of times. Still, he did manage to scrap at least a few pages in his notebook, though whether he'll take another look into them for a second time or not is completely a different story, as homework and revision are definitely not his cup of tea.

After the lesson is over, he put all his stuffs into his bag again and began to trail his way to the next class. Sometimes he did get a little bit tired with all these repeating routines everyday without anything special. Although he'd like his life to stay uneventful as it is, having something to stir up the atmosphere wouldn't be so bad, right? Perhaps that's one of main reasons why he wanted to make at least a friend or two. Stepping into the class in the most unstandout and eluded manner he got, Natsuki tried to not gain any attention and sat himself down at a seat.

Geography's period didn't seem to last that long, as 55 minutes passed in a flash. Well, luckily Natsuki wasn't picked to answer questions or revise the last lessons. Finally, it's time to go home after yet another long day. Hazuki said he has some business back at his home so he's went back first, which made Natsuki all alone now. He knows that Satoshi is probably at his apartment right now. Stopping by a convenient store, Natsuki bought some quick food and made his way back to his apartment.

After taking a shower, Natsuki heated up the food and headed outside of his balcony. It's not very dark yet and he thought that it was better to take some fresh air, after taking all those naps back at school earlier. As he went outside, he saw Satoshi was sitting on the edge while reading manga.

"Hi."

He greeted as he dug in his food while calmly gazing at the sky as the sun was about to set into the horizon far far behind the forests.

There seemed to be a rather awkward silence between the two of them, but Natsuki wasn't really someone who'd usually strike up a conversation first.