---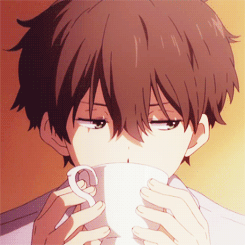 ╔
╗
"Some would say I need to find a direction for my own, but I prefer to just let it be."
[
Ambiguous | GARNiDELiA
]
Dɪᴀʟᴏɢᴜᴇ Cᴏʟᴏʀ ✦ #43CD80 || Tʜᴏᴜɢʜᴛ Cᴏʟᴏʀ ✧

#A8C5A8
╚
╝
---
---
Natsuki stood and gazed at the sky above him for a couple of minutes until Satoshi actually spoke up and gained his attention. He's just barely finished his dinner as he put the plate down at the chair nearby. The younger boy then asked him about his writing topic of the essay he turned in yesterday.

"I wrote about Edo period. I couldn't say that it was really an interesting topic but I went through with about 8 pages or something, anyway."



And then, the conversation between them seemed to go on quite pleasantly, though most of the topics involved in all sorts of literacy works and stuffs. Not that he was bragging or something but everyone seems to acknowledge that literature was one of his natural knacks. But other than himself, he doesn't know much about others' writing styles as he didn't interact much. I wonder how would his essay turned out after he'd gone through with it. Natsuki asked himself since bringing that topic up was kind of sudden.

It's been a while since he actually had a talk with someone else other than Hazuki, but it wasn't as bad as he thought, if he had to admitted. The conversation still going around the literature topic and famous writers or things like that. Both of them must be looking like a couple of geeks conversing with each other in others' eyes, but Natsuki couldn't care less.