---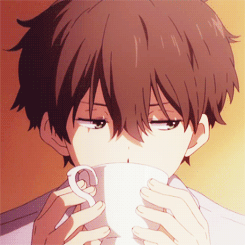 ╔
╗
"I don't want to waste much of energy on trivial things, but I guess I want to help him, somehow."
[
Ambiguous | GARNiDELiA
]
Dɪᴀʟᴏɢᴜᴇ Cᴏʟᴏʀ ✦ #43CD80 || Tʜᴏᴜɢʜᴛ Cᴏʟᴏʀ ✧

#A8C5A8
╚
╝
---
---
The conversation between them seems to be going on to all sorts of subjects now. Though for now, it seems that they're mostly talking about literature since that's pretty much the only thing in common they found in common right now. But it was nice being able to talk to someone with the same interest, since Hazuki pretty much didn't enjoy literature as much as he put up himself to be.

Then, after a moment, Satoshi said that he has something that he wanted to show Natsuki, in which he nodded in reply, "Sure." The younger boy then hopped back through the window of his apartment in order to get whatever he was intended to get. Natsuki continued to gaze up on the sky. He could only wonder what his kouhai was going to show him. Maybe a piece of interesting writing or something... Perhaps Natsuki could possibly play a couple of piano songs sometimes, in return? Well, if he wasn't so lazy, of course.

A couple of moments later, Satoshi returned with a paper-clipped stack of papers and passed it to Natsuki, saying that it was a project that he had been working on for a year and a half already. It's about Tokyo and how much it has changed ever since the past. Well, normally Natsuki would probably politely deny at such a request of giving feedback which requires reading through a dreadfully long writing, for obvious reasons. But he felt that the younger boy was sincere about this, and that he really seemed to have put a lot of effort into his project. Wouldn't hurt to give it a quick glance... He thought to himself.

Quickly reading through while flipping across some of the front pages, Natsuki had grasped some main ideas of Satoshi's project.

"Well, I wouldn't say that your writing is as good as a professional journalist, but if you show this to Mizuhara-sensei, I think the she'll give you at 85. I was originally from a city too so I guess know what it's like now and what it's once before. If you need any helps, feel free to ask."

Natsuki gave the stack of paper back to Satoshi.

He stretched his arms with a yawn,

"Say, are you interest with any instruments?"