---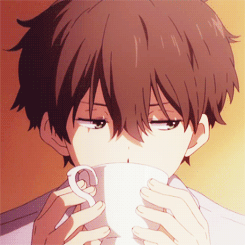 ╔
╗
"There's nothing I would rather change, but people couldn't stay them same forever after all, that's what they said."
[
Ambiguous | GARNiDELiA
]
Dɪᴀʟᴏɢᴜᴇ Cᴏʟᴏʀ ✦ #43CD80 || Tʜᴏᴜɢʜᴛ Cᴏʟᴏʀ ✧

#A8C5A8
╚
╝
---
---
Natsuki listened to his kouhai's reply to his question. He was a bit bored, to be honest, so he was just asking that question out of the blue just to get something going on with their conversation. He nodded,

"I see. Well, as you pretty much know, I play piano and that's my only hobby ever since I was a small kid. I didn't know why but it feel relaxing placing my fingers on the piano's board."

He said as he scratches the back of his head,

"I was wondering if you're the same."



And their conversations went on, with the topic averted from literature to some other topics, mostly about their lives and what they've been through so far in their lives. Most of the time it's not often that Natsuki was able to share his life with anyone. Even he would felt a bit strange that now he's talking so casually about his life with someone other than Hazuki. But it wouldn't feel bad in the slightest.

Satoshi then went on commenting about the fact that he was different from how he looks.

"Well, that's good to hear, I guess. But you're not the first one to say so."

Natsuki is still a bit hesitating on whether he should speak his concern about those 'friends' of Satoshi or not, but he figured that he should be a little bit more observant. As Satoshi reached out of the railing to grab the flying paper, Natsuki gasped a bit,

"Hey, be careful."

Then sighed in relief when seeing that his kouhai has gotten his balance back.

Looking up onto the sky, it was getting dark already and the clouds are already filling the sky, almost as if it was starting to rain again,

"Well, it's going to rain soon. You better get in if you don't want to be soaked like yesterday."

Natsuki wondered if the boy has found out that it was him who carried him back into his bed last night. But either way, he wouldn't mind much.

"Well, good night then. If you need anything, feel free to ask."



With that said, Natsuki retreated back into his apartment. There's nothing much for him to do now rather than revising a little bit for Geography tomorrow.
---
Is it me or I find people who took part in RPs that use real-life FCs aren't that friendly as those in RPs with anime FCs? Just askin' .____.