---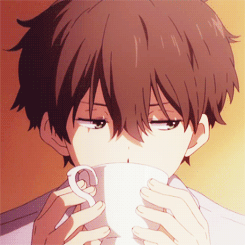 ╔
╗
"Ah, there's more things to be concerned."
[
Ambiguous | GARNiDELiA
]
Dɪᴀʟᴏɢᴜᴇ Cᴏʟᴏʀ ✦ #43CD80 || Tʜᴏᴜɢʜᴛ Cᴏʟᴏʀ ✧

#A8C5A8
╚
╝
---
---
A few moments later after he got inside and has just barely got his Geography notebook opened, his door was knocked. He sighed. Who could possibly find him in this time of the day anyway? That could be Satoshi but the boy's probably busying with his own business after their earlier, so that might not be his kouhai. Hazuki usually wouldn't bugged him around this time either. He can just stay silent to pretend that nobody was home. But in the end, Natsuki still managed to find it in his heart to go all the way to the front door.

As he opened the door and peaked his head outside, Natsuki saw a man who was seemingly a postman.

"Yes?"

He asked in a bored manner.

"Are you Toshiage-san? This is for you."

The postman said while pulling out a package with some postcards,

"Please sign here and here."

Natsuki signed the paper and took the stuffs that were sent to him. Giving the postman a quick 'thank you', he quickly retreated back inside.

It seems that the postcards were from his mother and his brother, Sorata. There were some pictures of their family hanging around together. Reading the content, they all said 'Happy Birthday' to him.

That's right, tomorrow was my birthday...

Well, every year, other than Hazuki who would bestow upon him with a lot of cheerful and happy congratulations and his family sending a gift for him, none of the others would care about that. He himself almost forgotten about it too. However, Natsuki found it to be a pain rather than something to be happy about, as congratulations and gifts and parties and birthdays are not something he'd particularly enjoy, obviously. Sometimes he did wonder why people invented birthdays in the first place.

Unpacking the package, Natsuki found a rather expensive watch inside. But he didn't really have a use for it, but it was from his family after all, so he just leave it at a high shelf on his bookcase. Thanks to the little reminder, Natsuki will remember to prepare for the overjoyful Hazuki tomorrow. He finished revising his Geography lesson, completed some of his essays and reading a few books. When it's starting to get darker, he stretched his arms and yawned, it's time for him to go to bed already. If there's a creature that he wanted to become, that probably would be a cat, since they spend three fourth of their lives sleeping.
---
Nah, it's fine. I'm not that annoyed :P