---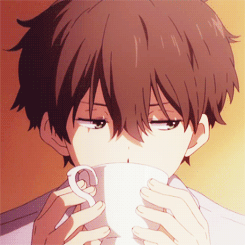 ╔
╗
"Why do people invented such a day in the first place, anyway?"
[
Ambiguous | GARNiDELiA
]
Dɪᴀʟᴏɢᴜᴇ Cᴏʟᴏʀ ✦ #43CD80 || Tʜᴏᴜɢʜᴛ Cᴏʟᴏʀ ✧

#A8C5A8
╚
╝
---
---
Just like any other mornings, dawn fast approaches and it always interrupted Natsuki in the climax of his dreams. As the curtain over the window of his room were unveiled in a rather violent fashion, the sunlight that beamed directly at his face made him winched and groaned as he crawled even deeper into his blanket.

"Nghn... Getting up in another century..."

He murmured to whoever was standing right next to his bed, but it seemed that they didn't listen to him.



"Just get up already, who could have possibly sleeping in such a beautiful day like this, especially since it was their birthday."

A certain of blonde boy speak up with his cheeky voice as he pulled the blanket away from his best friend. A rather drowsy Natsuki was seen clinging to the pillow while trying to curl into a ball. But he figured that just like any other days, he couldn't possibly sleeping in for another minute knowing that his noisy kouhai is in the room.



"...Fine. Stop making a nooze already. Birthday or not, it's still just a day."

Natsuki sighed as he lazily sitting up on his bed.

"So, are you making a heart-shaped dish with my face decorated on it like last year?"





"Hehe, just get dressed and see for yourself."

Hazuki replied mischievously.

Well, it certainly was a bit too much of a feast for a breakfast as there were like enough dishes on the table enough to feed him for a whole week. Twitching his eyebrows, Natsuki turned to his best friend,

"Were you staying up last night to did all of these or something? Are you turning me into a pig?"





"You meanie-face, at least show some appreciation."

Hazuki pouted, pretending to get mad as he averted his face away.



"Fine, I'm very grateful of your efforts. I'll be sure to eat all of them."

Natsuki sighed and gave a rather half-assed thanks before digging in. It's really a mountain of food...

When he's finished, both of them headed for school like usual. Stepping into the classroom, Natsuki wondered why Satoshi hadn't showed up yet, since usually it was him who turned up before Natsuki. Maybe he's some unfinished business or something... He thought before shrugging as he got on with his usual nap.

A while later, Natsuki woke up as the Sensei called for him. Sighing, he picked up the text book and read where the last student stopped. When he sat down, he noticed the little puddle of blood on the floor almost right away where Satoshi was sitting. Instinctively, he quietly nudged Satoshi,

"Hey, Satoshi-kun. Are you okay?"

When the younger boy has woken up, Natsuki excused Kazuhiko-sensei as he offered to take his kouhai to the infirmary, much to the surprise of the fellow students.

It's still mid-period so there aren't any students on the hall, and Natsuki was grateful since he didn't want to attract any unnecessary attentions. As they both enter the nurse office, she sighed depressingly while groaning 'Again?!', but she still patching the boy up.



"You really should need to look after yourself sometimes."

Natsuki said with his usual bored expression, but there was a slight sign of concern on his face. Of course, he was not the one to talk, but what do you know?