---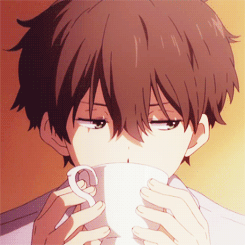 ╔
╗
"I would be lying if I say that I'm not happy with all I have right now."
[
Ambiguous | GARNiDELiA
]
Dɪᴀʟᴏɢᴜᴇ Cᴏʟᴏʀ ✦ #43CD80 || Tʜᴏᴜɢʜᴛ Cᴏʟᴏʀ ✧

#A8C5A8
╚
╝
---
---
Seeing that Satoshi was giving him a thumb up for the information he was given, Hazuki gave his fellow boy a wink. Well, it wouldn't be that bad if Natsuki would get a new friend or two, so Hazuki isn't hesitated when it comes to this. He knows that despite putting up a cold front all the time, his senpai is actually quite different on the inside if everyone has enough patience to dig deeper.

Natsuki slowly woke up in a drowsy state as he stretched his arms with a loud yawn as he put all his stuffs into his bag.

"Hey, Natsuki-chan, I think there's going to be something surprising waiting for you when you're home this afternoon."





"What, you're feeding me like a pig again?"

Natsuki replied with his usual bored expression. Of course, he was grateful of what Hazuki's putting effort into just to please him, but sometimes he got to admitted that the blonde boy can be hyperactive at times and it was a bit too fancy for a dull guy like him.



"Nah, just wait and see. I'm sure that it's going to be a pleasant surprise."

Natsuki winked. Though still in doubt of what his kouhai is up to again this time, he couldn't help but feeling a little curious on what this 'surprise' would be. The two greeted Satoshi back as both of them making their ways to their classes.

Well, to say that his birthday was just a normal day isn't completely wrong, as the monotonous pace that going on and on everyday didn't seem to be interrupted. Nothing particular has been happening either. All Natsuki could possibly think up to do now is just finish up with all the classes and return home, like everyday.

And another two hours also passed in a flash as another school day soon finished for Natsuki. Walking home with Hazuki today, there isn't anything different from any other days either - Hazuki keep talking and ranting endlessly while Natsuki just replied simply with short answers, pretending that he was really interested in all sorts of stories that the younger boy could possibly brought up. Some girls who came across him today did give him a rather ambiguous look though, probably due to the incident earlier today.

As he walked up to his apartment's door, a big, carefully wrapped present box was waiting for him.

Curiously, he picked up the box and read the note that came along with it on top. It turned out that this present was from Satoshi. So Hazuki really did tell him about it, huh? He thought to himself as he carried the present along with him as he entered his apartment. Unwrapped the present, Natsuki found a box of mochi, a Mozart disc and an English poetry book. Looks like he really is more observant than he looks.

Taking a small mochi from the sweet box, Natsuki took a bite before gobbled it down. A very light smile then appeared on his face.
---
It's fine. I'm used to write 2000 words posts before so this isn't something bothersome LOL