---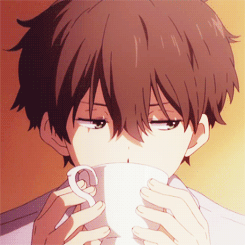 ╔
╗
"I don't care how the others would look at me, because it's who I am."
[
Ambiguous | GARNiDELiA
]
Dɪᴀʟᴏɢᴜᴇ Cᴏʟᴏʀ ✦ #43CD80 || Tʜᴏᴜɢʜᴛ Cᴏʟᴏʀ ✧

#A8C5A8
╚
╝
---
---
Natsuki carefully put the presents which Satoshi gave him onto a safe place up on his bookshelf after finishing gobble down all of the mochis from the sweet box. Well, if there's something that really mustered up his interest and devotion for one then it'll be mochi. The soft, fluffy coat and the sweet, tender sugary taste on the inside are really something. Even the dullest of guys in the universe got to have some liking.

Although his expressions still remained stoic, deep down inside he was feeling somewhat... happy? I wouldn't know for sure, since this is the first time ever someone else rather than his family and Hazuki would give him a gift, or a present. He knows that it was mainly due to the fact that he hardly ever tried to get acquainted with anyone else.

Whether he's misjudged or not, it doesn't really affect the fact that he still sleeps 15 hours and eats 3 meals per day. And he prefers to live that way, no matter what others said...

He had dinner by the leftover food from breakfast. Other than a couple of Math exercises, there isn't anything else for him to do so Natsuki just crawled into his bed and sleep all the way until morning when it's only 7:00 PM, just like any other days.

The next day doesn't seem to have any particular differences either, as Hazuki still follow, hugging and attempting to kiss Natsuki as always after feeding the older boy with a wholesome breakfast. Well, Natsuki really has to admitted if Hazuki wasn't around, he'd have died from starvation years ago.

It seemed that today Satoshi's friends were lifted from their suspension and the three of them are hanging around, up to some mischief again. Giving the younger boy a quick 'hello', he proceeded to sit down at his seat. He wanted to say thanks for the gift yesterday before Satoshi's phone rung. Shrugging, he dug his face into his arms and starting to sleep again. The lesson ended, but before any of them could say anything, Satoshi was taken away by his friends again.

Today's quizzes at the following classes aren't much of a trouble either. He finished them all while there's still 15 minutes left and proceeded to sleep all the way until lunch break came. At the Cafeteria, he secretly wondered why Satoshi didn't turn up, but Hazuki's presence had distracted him from thinking too much about it. Piano period passed peacefully as they all practiced another Ghibli's song again - and Natsuki did enjoy playing it more than classical pieces.

Basic Mathematics class is finally here and Natsuki didn't want to interrupt Satoshi with his so-called friends though. So as much as he wanted to say something to show his gratitude, it couldn't go well without them being interrupted. At the end of the period, while Natsuki was packing his stuffs, Satoshi gave him a quick note with a line said 'I'm sorry' in it. And not very long later, he received a rather hateful stare from one of his kouhai's fellas. His name was Ryou, if he remember correctly?

But in reply to the stare, Natsuki just stretched his arms and yawned in boredom. Why should he care about anything like if he was hated or not? He always had his ways to deal with those who bother him if he really must.

---

Ikr?
And yeah, you can say that he's really like that :)