---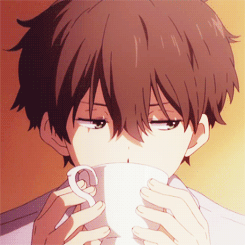 ╔
╗
"Who'd bother to understand this lil' me, anyway?"
[
Ambiguous | GARNiDELiA
]
Dɪᴀʟᴏɢᴜᴇ Cᴏʟᴏʀ ✦ #43CD80 || Tʜᴏᴜɢʜᴛ Cᴏʟᴏʀ ✧

#A8C5A8
╚
╝
---
---
After finishing with Basic Mathematics, Natsuki packed his stuffs and made his way to his next class, which was Intermediate English. He wasn't entirely thrilled though, since there are still three more classes until he could finish for the day and make his way back home. Natsuki didn't really understand the reason behind the hateful stare of that Ryou boy, but would you really expect him to mind something as 'trivial' as that? As if he hasn't exerted enough energy for almost a whole year already.

As he entered the classroom and waited for the teacher to appear, he put his chin on his palm and gazed outside the window lazily. It's already mid-afternoon but it seemed that the whole horizon is still shining radiantly with sunshine everywhere. Most of people would usually feel all thrilled and energetic alike, but for Natsuki, just to enjoy moments like this when he can indulge in his own world without being interrupted is fine enough. Who cares about what others would say about you anyway? Natsuki knows that there are things that he wanted to treasure, but showing it never was something he's good at.

Moments later, Kuroha-sensei entered the classroom as everyone stood up and greeted her. "私達は受動的な声で上取得します誰も、今日は、78ページにあなたの本を回してください..." She said and began to lecture about all sorts of structure. And, as always, Natsuki just slept all the way through the class again. As the class ended quickly, he made his way to Materialist Philosophy, where he studied about the definition of matters and all sorts of basis of the world, much to his disinterest. And in Advanced Geography, things couldn't really get better with the geographical site around the Fire Rim, so he was glad that another long day has ended.

Hazuki has excused himself to go home first since he has to take his sister to the movie tonight, so Natsuki just stroll his way back to his apartment without any haste. Walking past the door of Satoshi's apartment, he secretly wondered if the younger boy is back or not, since his gang is now together again. But, they aren't that close to be caring of each other that much yet, right?

After taking a bath, Natsuki didn't feel like eating, so he just opened a can of coke and went outside to his balcony to watch the sky while gulping down the beverage. Speaking of those 'friends' of Satoshi, the reason why that boy threw him such a glare perhaps was due to the fact that he was closer to the boy than usual. Natsuki knows that he should tell his kouhai about the shady guys he hung out with sooner or later, though he hasn't a clue of how to strike a conversation, yet.

---

It's okay, girl. I got writer's block sometimes too LOL
Well, usually Natsuki would be quite blunt, but I think he'll just say it to Satoshi in an ambiguous way, and if he could figure it out or not depend on him :D But if you have any better ideas then I'm okay with it too :)