---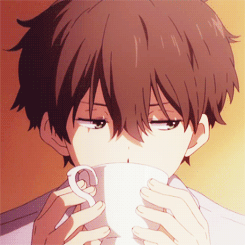 ╔
╗
"False trust is the quickest way to lead to one's downfall, after all."
[
Ambiguous | GARNiDELiA
]
Dɪᴀʟᴏɢᴜᴇ Cᴏʟᴏʀ ✦ #43CD80 || Tʜᴏᴜɢʜᴛ Cᴏʟᴏʀ ✧

#A8C5A8
╚
╝
---
---
Staring up to the sky as clouds started to cover again, Natsuki slightly winched as it looks like it's going to rain again. He couldn't say that he actually enjoy it if rains keep coming like this, but hey, he'll can just crawl into his sheet and take a long, long nap like usual. Still, it was nice taking a breath of fresh air everyday. No such things like factories or congestion ever happened in Hikarishi, so the air was pretty clean after all.

While still gulping down the can of coke, Natsuki noticed that the door to the balcony of the apartment next to his was swung open, and a certain of brown-haired boy walked out. Though this time, apparently the boy was clearly troubled by something as he was quieter than usual, apparently. But it's a bit too sudden and Natsuki wasn't really certain if the younger boy wanted to converse about anything right now, so he himself also stayed quiet while gazing up at the sky. The silence gap between them is turning more awkward by the minutes.

After a while or so, Natsuki knows that he should say something.

"Hey, Satoshi-kun."

Natsuki turned to his kouhai and said to gain his attention,

"Thanks for your gift yesterday. I really appreciate it. Frankly, I was a bit surprised to see that there's actually someone else other than Hazuki to know what I usually interested in. So, I'm grateful, I mean it."

He replied with a light smile.

When he's finished saying his gratitude, he knows that there are another thing in his mind that he should also speak. Usually he'd be blunt to whoever approach him, but to Satoshi, it was different.

"Say, there's something I-"

But on the second thought, it might not been best if he just went straight into it, knowing that the younger boy is more fragile than he looked, so he just shook his head,

"No, nevermind. Just keep in mind that you can be backstabbed by anyone around you, so... be careful, okay. It's about to rain again so don't get yourself drenched. Good evening."



With that said, Natsuki retreated back to his apartment. Throwing the empty can into the waste basket, he proceeded to finish some of his homework and laid down on his bed, reading a novel he's just bought until night falls. And another long day has ended.

---


Well, to be honest I don't really have a clue too :p
Still, you can go any directions you wanted if you're comfortable with it. I'm fine with anything :)