---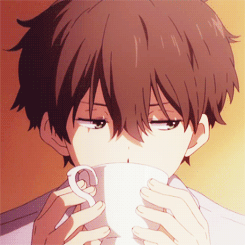 ╔
╗
"It's okay to feel hesitated sometimes, but choices are inevitable."
[
Ambiguous | GARNiDELiA
]
Dɪᴀʟᴏɢᴜᴇ Cᴏʟᴏʀ ✦ #43CD80 || Tʜᴏᴜɢʜᴛ Cᴏʟᴏʀ ✧

#A8C5A8
╚
╝
---
---
Morning has fast approached, and another day has started. As usual, it took Hazuki quite some effort in order to kick Natsuki out of his bed. Well, what was surprising here this morning is that hazuki appeared with not only his school bag, but also a rather hug case which probably contained all sorts of his stuffs.

"Hehe, you see, my parents and my sister are going to Hokkaido today to attend the wedding of a relative of mine and they wouldn't be back until next week so I guess I'm staying over, aren't you happy?"

Hazuki said with a mischievous grin while scratching the back of his head.

Natsuki sighed as he sat up, he's actually lost count of how many times the younger boy suddenly carried with him his case and just telling Natsuki that he'll be staying over already, but Hazuki has pretty much considered his house to be his too, so there's no problem with it, to say the least.

"Fine, just put your case into the corner already. I'm hungry."

Natsuki said bluntly as he lazily made his way into the bathroom. His head is a huge mess.

After finishing with all the personal hygiene and eating breakfast, the two of them made their ways to Chishiki Academy, where another day of monotonous studying continue. Natsuki secretly wondered whether Satoshi is already at school yet or not. The boy has been acting a bit weird recently and he could only guess how the boy is feeling. Natsuki made his way to his first class, which is Classical Literature and gave the younger boy a quick greeting before sitting down at his own seat.

While listening to the lectures of the teacher, he laid his chin on his palm and lazily looking out of the window, wondering how will his life turn out from now on. Satoshi seemed quieter than usual and it could only cause him to be even more curious of what has the boy gone through. When the class is finished, Natsuki packed his stuffs and made his way to his next class.

Hazuki, on the other hand, was seemingly waiting for Satoshi at the entrance of the classroom. When his fellow classmate appeared, he asked with his usual cheeky and excited voice,

"So? Have you given anything to Natsuki-chan yet? Did he appreciate them? Tell me, tell me."



---

Yeah, that sounds good :)